2020 Has Been a Learning Year for Goodwill and We Are Grateful!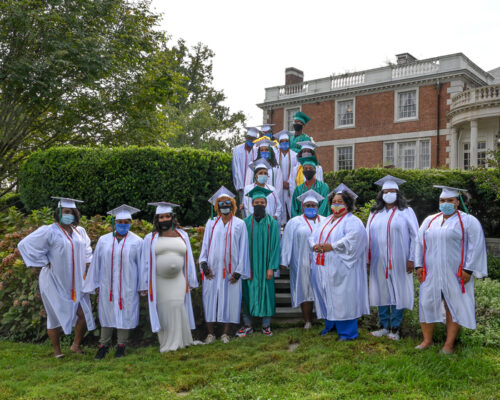 COVID-19 increased the universe of the unemployed in every state in the union and virtually every nation on earth as businesses shut their doors to help slow the spread of the virus this past March.
While the spike in furloughs and layoffs impacted a large swath of industries, a surge of that magnitude had a tremendous and meaningful impact on organizations like Goodwill of Greater Washington for two reasons.
First, because like many businesses, we were forced to shut down our primary source of income: our 20 retail stores. They were closed in mid-March, didn't reopen until late June, and are still operating on a limited schedule, so far costing Goodwill $9.8 million in projected revenue critical to running our operations.
Second, and even more importantly, because our mission is to provide free job training, education, and employment services to people with disabilities and disadvantages, the shutdown forced us to suddenly rethink how we were going to continue to deliver our critical community assistance. To make matters worse, the unemployment and economic tsunami hit at a time when the population of people in our community who needed our services increased more than 200% overnight. It was the perfect storm!
If not for the ingenuity and commitment of hundreds of Goodwill of Greater Washington associates as well as the support of our very generous community, 2020 could have ended very differently at our Goodwill.
Instead, we are not only surviving, but thriving. Our stores have reopened and sales are brisk. And our mission services are being delivered daily via virtual learning, actually allowing us to reach audiences who previously may not have had the time to commit to one of our job training programs or adult charter high school – The Goodwill Excel Center. We were able to adjust to meet the evolving needs of our community whose lives have been turned upside down. Our mission services have never been in higher demand, but we're ready to respond – because of you.
So, our year end message is a simple one: THANK YOU!
Thank you for your donations of household goods that kept our stores stocked while we awaited the return of our loyal customers when we reopened.
Thank you to our loyal customers for continuing to buy our goods that fund our important mission.
Thank you to our individual, corporate, and foundation donors who helped us survive the store closures enabling us to extend the insurance benefits for hundreds of furloughed associates.
And thank you to the Goodwill team, who shined the brightest during our darkest days, working diligently and with tremendous commitment in order to meet the sudden rush for job training and employment services as people all over the region unexpectedly found themselves out of work.
One of the tremendous strengths of a social enterprise like Goodwill is its malleability and capacity to adapt and innovate.
If nothing else, all of us at Goodwill of Greater Washington have learned one important lesson from the challenges leveled against us in 2020, beyond the struggle to remain healthy: That out of tragedy can come triumph if you ask the right questions, work collectively to seek solutions, and understand that empathy and humility are strengths, not weaknesses.
From all of us at Goodwill of Greater Washington – THANK YOU!