As a socially sustainable organization, Goodwill of Greater Washington doesn't just emphasize environmental sustainability practices, but also economic and cultural sustainability. We believe in taking a holistic approach towards the intersection of all three levels of sustainability that are required to develop a fully thriving and successful community.
Goodwill Practices Environmental Sustainability Through:
Supporting community green efforts by keeping over 49 million pounds of material out of area landfills (in 2022) through the collection and resale of donated goods.
Extending the life cycle of donated textiles by reselling them in the retail aftermarket.
Operating Goodwill's administrative offices and Goodwill Excel Center in LEED certified buildings.
Moving towards a fully sustainable administrative office environment.
Institutional recycling within all our administrative and business operations, as well as at The Goodwill Excel Center Public Charter High School.
Participating in the Dell Reconnect program which recycles millions of pounds of electronic waste annually.
The use of green cleaning products and practices in our 11 contract operations.
Goodwill also operates a sustainability center that allows us to partner with community organizations to recycle materials such as plastics and soon, glass.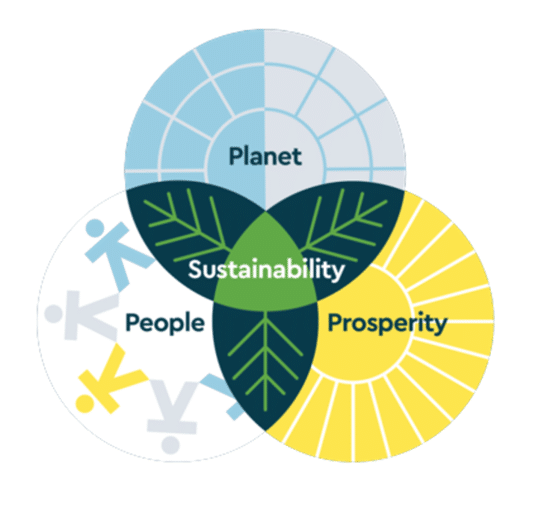 Goodwill Practices Economic Sustainability Through the Fulfillment of Our Mission Services
Goodwill provided free job training and education opportunities to more than 2,200 people in our community in 2022.
More than 700 students graduated from the Goodwill Excel Center adult charter high school since 2016.
In 2022 the average starting hourly wage of those placed into employment was more than $19.00.
Goodwill Practices Cultural Sustainability By . . .
Offering Excel Center classes, like Earth Science, that teach lessons on environmental sustainability.
Adopting a workplace culture that celebrates and embraces diversity, equity, and inclusion.
Encouraging and supporting the personal and professional development of Goodwill team members.
We encourage all our team members and the community we serve to support our social sustainability efforts both within and outside of Goodwill of Greater Washington.