At Goodwill of Greater Washington, we believe in the three pillars of social sustainability: People, Planet, and Prosperity. We understand that taking a holistic approach towards the intersection of all three levels of sustainability is required to develop a fully thriving and successful community.
Planet
Goodwill protects our planet by. . .
Supporting community green efforts by keeping over 49 million pounds of material out of area landfills (in 2022) through the collection and resale of donated goods.
Extending the life cycle of donated textiles by reselling them in the retail aftermarket.
Operating Goodwill's administrative offices and Goodwill Excel Center in LEED certified buildings.
Moving towards a fully sustainable administrative office environment.
Participating in the Dell Reconnect program which recycles millions of pounds of electronic waste annually.
The use of green cleaning products and practices in our 11 contract operations.
Goodwill also operates a sustainability center that allows us to partner with community organizations to recycle materials such as plastics and soon, glass.
Offering Goodwill Excel Center classes, like Earth Science, that teach lessons on environmental sustainability.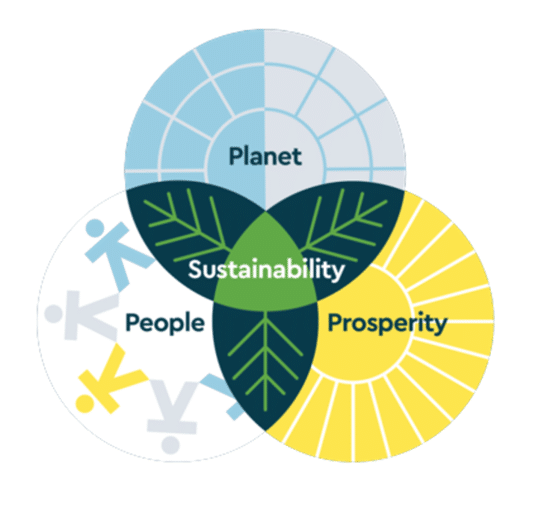 People
Goodwill supports the individual and the community through our business and mission operations including. . .
Providing free job training and education opportunities to more than 2,200 people in our region in 2022.
Employing over 1,000 team members in the DC area – many of whom face barriers to sustainable employment, such as
homelessness, single parenting, justice involvement, or severe disabilities.
Operating nine contract sites that provide custodial, grounds maintenance, and glass cleaning services to the federal
government, employing more than 200 people, most with severe disabilities.
Offering every Goodwill team member one-on-one case management, professional development, and career and life coaching services. These programs will enable those faced with employment barriers and those who have had few opportunities for career advancement to develop a broader, achievable path to professional success both inside and outside of Goodwill.
Offering every team member access to free tuition assistance and a caring fund to help them offset emergency expenses without ever having to pay it back.
Adopting a workplace culture that celebrates and embraces diversity, equity, and inclusion.
Having served more than 50,000 people in the DC area through jobs, job training programs, and supportive services since opening our doors in 1935.
Prosperity
Goodwill promotes Economic Prosperity by. . .
Securing an average starting hourly wage of more than $19 per hour for those individuals placed into employment.
Offering a 2022 average hourly wage, with benefits, of more than $20 per hour for all Goodwill government contract employees.
Graduating almost 600 students from the Goodwill Excel Center adult charter high school since 2016 along with industry credentials.
Almost 70% of all Excel Center graduates are employed or enrolled in college six months after graduating.
Encouraging and supporting the personal and professional development of Goodwill team members.
We encourage all our team members and the community we serve to support our social sustainability efforts both within and outside of Goodwill of Greater Washington.