Commutes Are Back and the Public Has Varying Opinions
In the time prior to March of 2020, commuting to work was an expected – and accepted – part of everyday life. At that time the average one-way commute in Washington, DC was around 30 minutes. Now, many who read this would wish their one-way daily commute was only 30 minutes.
Then, the pandemic hit like a tsunami. For most of the workforce in the DMV lives were changed in an instant. Isolation and fear led to adaptation and innovation. While we missed the camaraderie of seeing our co-workers in real life we soon learned that working from home had its perks. Besides spending less on gas we reclaimed a significant portion of our day.
Fast forward to the present day and things are getting back to normal. If you're back on the road every day you are experiencing this firsthand. We actually have data to back this up!
Apple created an interactive website that tracked requests to Apple maps beginning in January 2020. As you can see by the screen grab below, commuting patterns in the DC area dropped suddenly in March 2020 and are now back to pre-pandemic levels.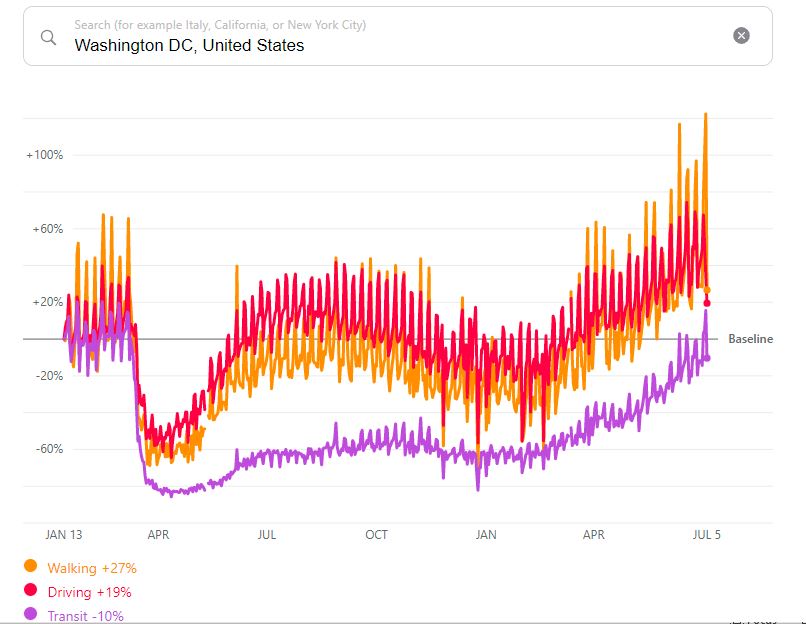 Keep in mind this only applies to requests for Apple maps so Android users are not included. However, we can infer they would likely be similar. As the recent Independence Day celebration on the national mall proved, thousands are willing to take public transportation once again (and the above chart reflects that).
For the second time in eighteen months, the workforce is facing a dramatic paradigm shift. It is likely to get worse once schools are back in session after Labor Day. In addition, many companies – like Goodwill of Greater Washington – are planning on returning to the office in September.
McKinsey & Company released the study "What Employees Are Saying About The Future Of Remote Work". There were some interesting attitude shifts caused by the pandemic.
Of those surveyed, prior to the pandemic, 62% preferred to work on-site while 30% favored a hybrid model. Those numbers shifted dramatically post-COVID19 as only 37% wished to work on-site while 52% wanted the hybrid option.
There are implications for talent retention, as well, as 28% of surveyed US workers were "likely" or "very likely" to look for a new job if their company returned to working fully on-site. Furthermore, 43% of survey respondents would prefer to work from home at least three days per week.
While work/life balance is now the buzz phrase of the moment, we can be reasonably sure that the stress of the daily commute is one of the drivers in this shifting of attitudes.
What will be interesting to watch is the adoption of the hybrid work model. For those in the DC area this all centers around the federal government. If they adopt a hybrid model of, say, two days of WFH every week the reduction in traffic could have a noticeable impact on daily commutes.
Then again, maybe commuting is something people are looking forward to. According to a survey commissioned by Endurance Warranty, 58% of respondents say they miss their daily commutes. 
Which camp are you in?