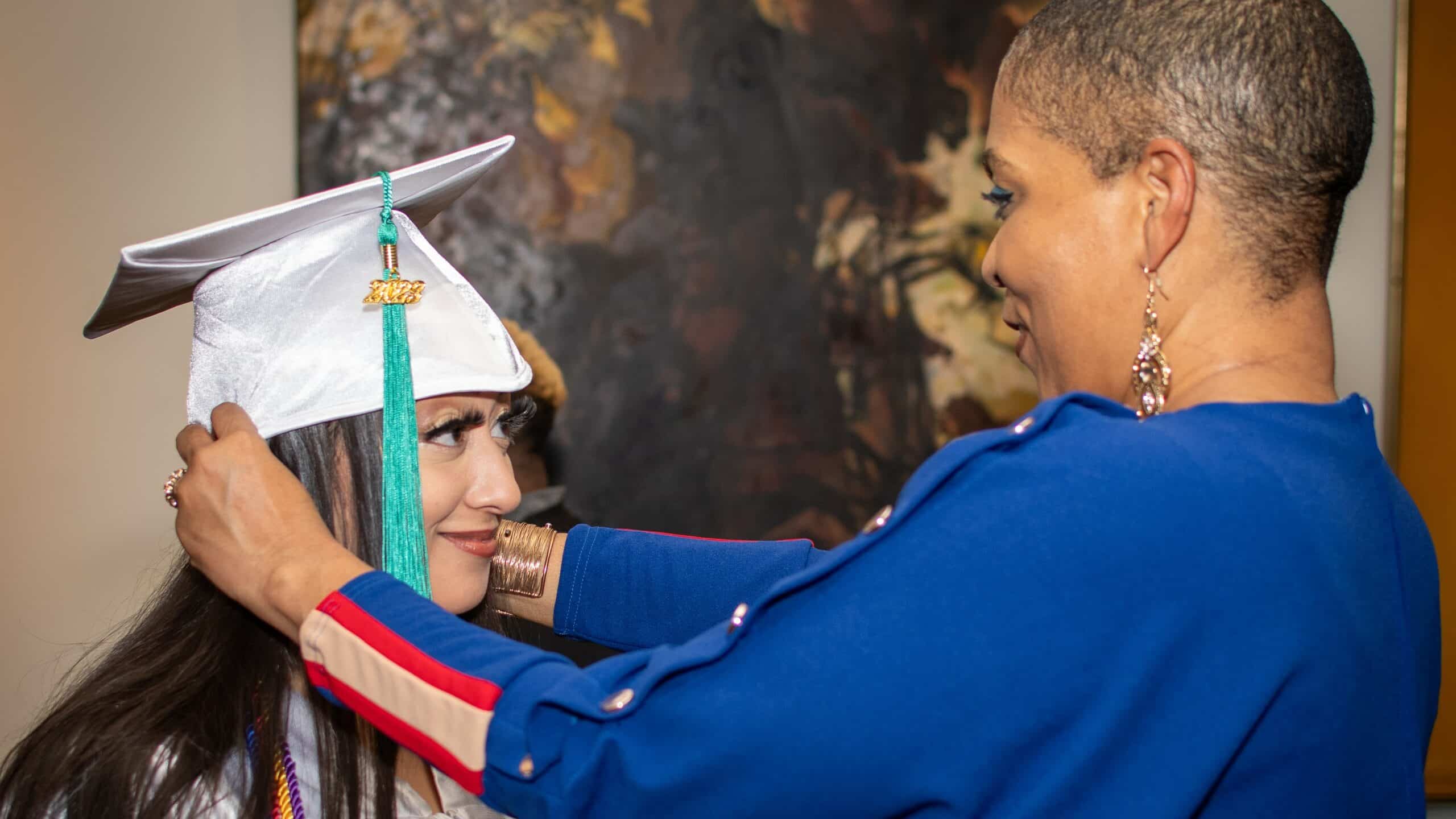 What comes to mind when you think of a teacher? Educator? Leader? Psychologist? Coach? Supporter? Advocate? Inspiration? Changemaker? 
Looking at all these powerful words, I see that teachers do everything and play many roles in shaping our future. 
Teachers come in many forms, from the ones who lead the classroom to our mentors, Coaches, and role models. Everyone is a teacher. 
Over the next two weeks, we're excited to recognize Staff Appreciation Week (May 1-5) and Teacher Appreciation Week (May 8-12) at Goodwill of Greater Washington's adult charter high school, The Goodwill Excel Center (GEC). The Goodwill Excel Center is a unique, tuition-free adult charter high school that awards industry-recognized certifications and high school diplomas, not GEDs, to adult learners in the District.
By hosting and celebrating both weeks, we're elevating all individuals who make a difference through the GEC's life-changing and transformational offerings. 
Instead of describing more about how GEC staff is inspirational, passionate, and dedicated - we want to share some real words of gratitude from real students and graduates of the school. Here's a glimpse of what they said:
"The Entire GEC Staff needs to be recognized for their hard work and dedication. Without them, I would not be where I am today!! Peace and Blessings ❤️"
India, July 2022 Graduate
 "I'd like to shout out every staff that work at GEC. Y'all are so wonderful and come with open arms. I just love y'all!!!!❤️"
Jasmine, 2023 Graduate
"Thank you to my coach, Mr.Parker, for believing in me. To Mr. Eldon for pushing me and always making sure I was staying on track to graduate on time."
Benita, 2023 Graduate
"Mr. Hopkins, my mentor, and Mr. Keeks, you are always the best in comedy and keep the first half of the school great to keep us going, but once you pass that Level, you know you are close to finishing the finish line. Your class made me stay the whole time, even when I got to the toughest class. Ms. Anderson, and my other teachers, were all in line for me to strive. Mrs. Solden, all the rest, I can't name them all, but I love all and all the way to Mrs. Rhodes' our daily wake-up call."
2022 Graduate
"I would like to shout out all of my past and current teachers. Thank Ms. Ro, my coach, Ms. Crawford, Mr. Williams, and Ms. M for everything. Also, my old teachers from the last term, Ms. Soden and Mr. Keeks. Ms. Rhodes, you're the best." 
JoVonte, Current Student
"I love the entire staff @ GEC.The best school ever!!! I truly appreciated you all when I attended GEC ."
Tara, 2022 Graduate
"I would like to give a shout-out to Mr. Benham for always staying on top of me and not allowing me to settle for the bare minimum when it came to my work!!! I would also like to shout out the whole GEC staff members for always being there for me in need, even after I graduated, and for checking up on me. I appreciate you all and Love You!!!!"
Breauna, 2022 Graduate
We could include dozens more quotes to illustrate GEC staff members' impact on helping adult students earn their high school diplomas. However, instead, we invite you to follow the GEC's social media channels to track the steady flow of fresh and authentic testimonies that illustrate our community's deep gratitude. 
We also encourage you to leave your past and current teachers a note of thanks to express how they've impacted your professional and personal life. 
In the words of Mother Teresa, "Kind words can be short and easy to speak, but their echoes are truly endless."