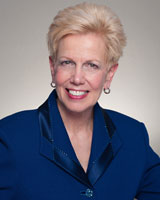 Opportunity – it's the common thread woven through the stories and updates in this summer edition of our GoodNews eNewsletter.
Investing in people and our region are at the heart of our mission to "Transform lives and communities through the power of education and employment." It takes our community coming together to bring that mission to life. Despite the challenges and changes faced over the past year with the pandemic, we hold on to that sense of opportunity.
It is the opportunity to work with Goodwill graduates like Isaac, Brenda, Asma and Sheila who are among the 1,447 people we served together this year through the end of June. They have entrusted us – friends like you and our Goodwill – with the chance to build a better future for themselves and for their families.
It is the opportunity to work with partners like Washington Gas, highlighted in the video below, to launch a new energy and construction training program that expands employment options for people in this high-demand field.
It is the opportunity to strengthen partnerships with businesses like Truist, Bank of America, MGM National Harbor, Geico and Accenture, who share that commitment to provide pathways for people to gain skills through industry training and coaching that lead to new careers.
And it is the opportunity to work alongside friends like you who generously invest in the promise and potential of each person reached by our Goodwill. You make that possible each time you make a financial gift to support our mission, donate or shop at our retail stores.
The pandemic has highlighted existing inequalities in our community that together we can work to change. I am tremendously grateful to and for you as part of this diverse group of students, graduates, friends and supporters who make up our Goodwill community. We celebrate you for your trust, hard work and dedication that transform lives every day.
Washington Gas President Blue Jenkins and Goodwill of Greater Washington President and CEO Catherine Meloy discuss the partnership to launch a new Energy and Construction Careers Training Program to serve our community and provide a strong pipeline to careers in the industry.