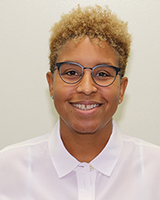 Dawn Holland is the Vice President, Donated Goods & Retail for Goodwill of Greater Washington (Goodwill), where she oversees all of the day-to-day management, budgeting, and performance for Goodwill's 20 retail stores, 18 donation centers, ecommerce operations, sustainability center and warehouses. Holland takes great pride in the development of her senior leadership team while ensuring that they in turn develop their team members to grow within the Goodwill enterprise.
Holland arrived at Goodwill in October 2010 as the director of transportation, eventually earning a promotion to Senior Regional Director of Retail Operations where she was responsible for overall performance of the stores in her region as well as strategic planning, staffing, training, and process development.
Prior to Goodwill, Holland was the district manager for Office Depot, also having spent time as a district manager with The Sports Authority.
In 1999, Holland was recognized as The Sports Authority's Store Manager of the Year, and in 2003, she achieved the highest KPI ranking of all The Sports Authority districts throughout the country.
In 2008, while at Office Depot, Holland received the President's Circle Award based on her outstanding performance around profitability, sales, shrinkage, and customer service.
Holland attended the University of Maryland, Baltimore County.