A Letter From the President & CEO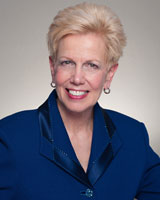 Dear Goodwill Community,
Goodwill of Greater Washington stands with individuals and organizations across the country and the world in grieving not only for George Floyd, but for all of those who have fallen before him due to racial injustice.
What happened to these individuals could have easily been experienced by a Goodwill associate, an Excel Center student, a job training participant, or someone from our administrative team. Every day our teams across our retail stores, our government contracts, the Goodwill Excel Center and the administration staff, strive to remove barriers to underserved ​and under represented populations in the workforce.
Goodwill of Greater Washington was founded 85 years ago to transform lives and communities through the power of education and employment, which addresses some of the systemic inequities faced in the greater Washington region. And 85 years later we stand firmly against the injustices that are so frequently experienced by people of color. Not just today, but every day moving forward, Goodwill of Greater Washington will bring focus and intention to the actions we take, and ensure they are aligned with and promote what we so truly believe at Goodwill, that black lives matter and that systemic racism exists and MUST be eliminated. Our doors, both physically and virtually, will always be open to help those in our community. We will continue to bring equitable access to employment and educational services through our resources and partnerships.
As an organization, we strongly condemn racism and bigotry in all of its forms. We remain an agency that works to support the most vulnerable in our communities. We commit to taking a series of sustainable measures to help further our commitment to diversity, equity, and inclusion.
We will assess the current state of equity and inclusion within our own Goodwill. We have engaged a third party (Hudson Mann) to review our policies and practices and to conduct an in house survey of our leadership team in order to identify a baseline for growth in our understanding of, and commitment to promoting diversity, equity, and inclusion and eradicating racial injustice and inequality.
We will hire a Diversity, Equity and Inclusion professional to lead the organization forward with discipline and a committed approach to preventing racism and inequity in our Goodwill. This Senior Leadership position will help us to become leaders in our community to stand up against racism and for equity.
We will seek to partner with organizations that align with our core values and commitment to justice and equity.
We will aggressively recruit minority candidates for our Board of Directors and Senior Leadership positions to reflect racial equity.
We will both facilitate and engage our community in an effort to create a coalition of change against inequity in all its forms.
We will work together at our Goodwill to create an environment that is a model of equity and inclusion, while being diverse in color, background, religious beliefs sexual orientation, and gender identity. I personally long to lead an organization where this is paramount, never taken for granted and always practiced. This will be our Goodwill.
Catherine Meloy
President & CEO
Goodwill of Greater Washington