5 Thrifted Gift Ideas for Your Colleagues
In a November gratitude-focused blog post, we reviewed ways that you can perform random acts of kindness for your colleagues. In another post, we also explored the question surrounding, "what is and is not an appropriate office gift?"
For today's post, we're providing ways to show your coworkers some gratitude through the act of gift-giving. Except we're putting a sustainable spin on it.
Instead of heading over to a big box store to pick up a generic "Thank You" mug or bag of festive candies that someone at your workplace might have also received, we're imploring you to head to your nearest Goodwill to thrift resources for gifts that will make your coworkers feel like you really care about and pay attention to them – which you do!
It gets even better! By thrifting your gifts, you're also showing the planet AND community that you care. 91 cents out of every dollar Goodwill earns at its stores goes towards its mission services. Therefore, every item donated and sold at Goodwill has a positive and measurable impact on your local community.
So head on over to your local Goodwill and bookmark this tip-filled page on your phone:
You get a mug, and you get a mug! If you're going the mug route, Goodwill has endless options. Does your colleague love tea? Give them a one-of-a-kind vintage teacup! Do you have a jokester on your team? Could you give them a humorous mug? We recommend filling your preloved drinking vessel with candies, snacks, coffee, or tea for these gift options.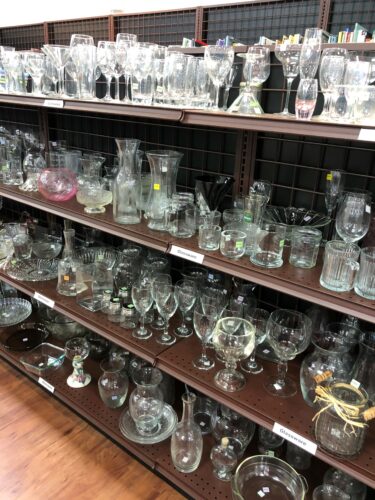 2. A bright bouquet in a beautiful vase. Nothing says, "I appreciate you," like a gorgeous assortment of fresh flowers or plants from our friend, Mother Nature. We recommend picking up flowers at a local flower shop or grocery store and gifting them in a unique thrifted vase or pot from Goodwill. Goodwill carries all sorts of styles like glass, modern, ceramic, and vintage. Many pots are themed as well. For example, I just saw a cake-themed planter that was painted with sprinkles!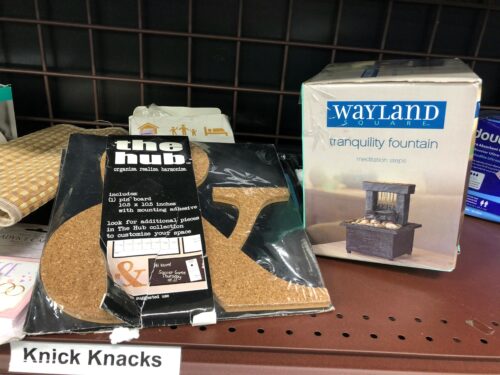 3. Back-to-office desk refresh. If your workplace is transitioning back to the office, thrifted new-with-tags decor can spruce up any desk. At the new Goodwill in North Rockville, MD, I spotted these brand-new goodies for pennies.
4. Sometimes, there's nothing like a good book! Coworkers that like to cook – I bet they'll love a unique recipe book! For those who enjoy mysteries, maybe there's a novel they haven't read at Goodie's (short for Goodwill :))! There is no shortage of literary options that you can thrift for a memorable gift.
Speaking of things similar to books, Goodwill often carries brand new stationery and planners too. This new one I just spotted for under $5 would make a great present!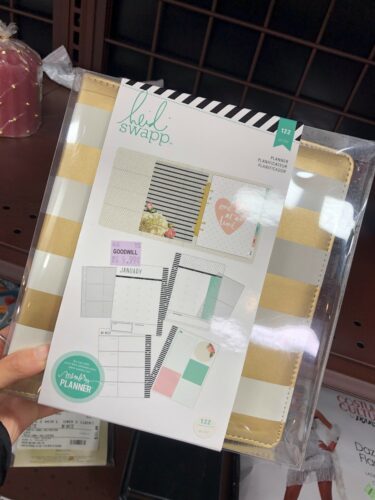 5. Baked with love….in cookware that's preloved. I recently saw this idea on Facebook. If you enjoy gifting your culinary creations, you can make them even more memorable by ditching the Tupperware and presenting them in Goodwill tins or dishes! By doing this, you're reducing your plastic usage AND providing a colleague something that they can use to inspire their own cooking! Dishes and tins can make excellent home decor as well.
And that's a (thrifted gift) wrap! Five ideas for preloved gifts that you'll likely just want to keep for yourself.
I hope that everyone has a safe and happy holiday/winter season! Please be sure to celebrate the holidays safely, even when surrounded by loved ones and family.