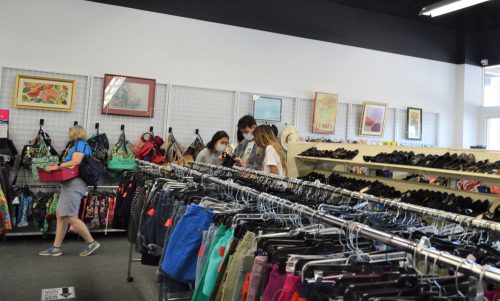 Like every other nonprofit organization or business affected by the pandemic, Goodwill of Greater Washington has had to pivot time and time again since March of this year to keep our operations afloat and our associates employed while continuing to fulfill our mission services. As a result, Goodwill implemented several alterations to our business and mission models.
Here are a handful of changes and efforts that you may not be aware of, but may impact you as a Goodwill supporter or member of our community.
Goodwill has evolved its mission services from in-person, classroom settings to online virtual training programs, with hands-on training provided only as needed.  Goodwill's virtual career center generated more applications and participants than Goodwill ever anticipated due to the tremendous need for services that will help people find and keep employment as Washingtonians continue to be furloughed or laid off.
Goodwill reduced the hours of operation for its 20 retail stores to meet the changing consumer behavior resulting from remote working.  Stores that were previously open until 9PM now close at 6PM because evening shoppers are not as abundant today as they were pre-COVID, when many consumers didn't have the flexibility to shop until work ended at 5PM.
Goodwill reduced the hours of its donation centers due to the overwhelming volume of donated material received during the pandemic when its stores were shut down to protect our customers and associates.  Goodwill of Greater Washington now has so many donations that we've had to rent multiple warehouses to hold the donated goods until they can be resold.  We have no more space for the donations that continue to flow in so we are forced to keep our donation center hours short to accommodate the needs of donors while not putting added pressure on our existing infrastructure and supply chain.
Goodwill has implemented several new health and safety requirements at our retail stores to keep our associates and shoppers safe.  They include limiting the number of customers allowed in the store at one time, rigid social distancing protocols, sneeze guards at every cash register, regular sanitization of the shopping carts and baskets, and a mask wearing mandate for all shoppers and associates. 
While our stores were closed between March and June, Goodwill donated the use of its fleet of trucks and drivers to the Capital Area Food Bank to help deliver critical food supplies to distribution centers through the region. 
Thanks to the generosity of hundreds of donors, Goodwill was able to extend the healthcare benefits of all of its furloughed associates for several months to eliminate the difficulty and fear of having to find and pay for healthcare while not working during the pandemic shutdown.
While these are just a few of the changes and efforts Goodwill of Greater Washington made over the past several months, we expect change to be consistent as we continue to navigate these uncharted waters. We're grateful to our community for your continued support and understanding as we learn and grow together.
---