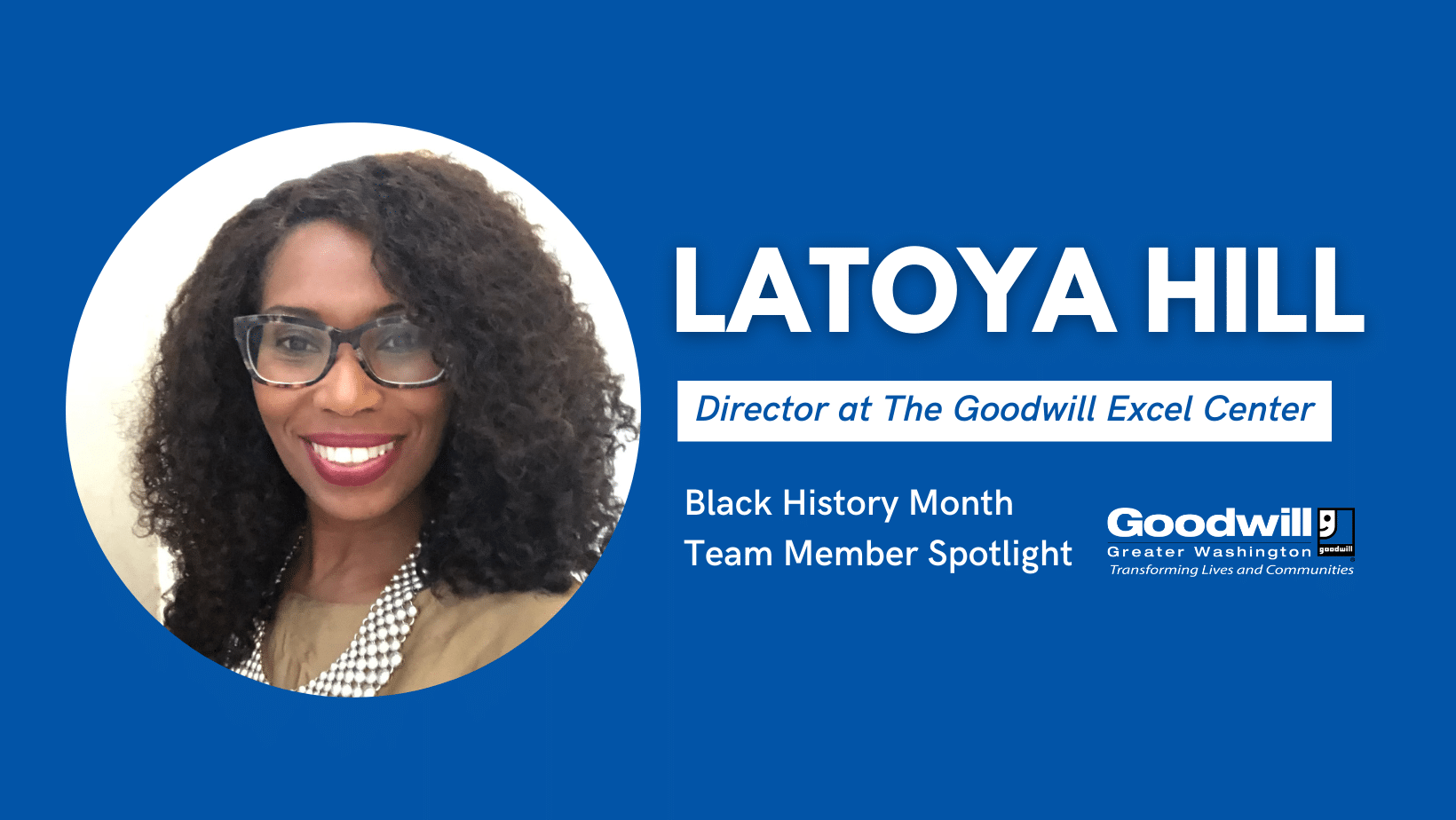 Black History Month is celebrated annually throughout the month of February. During this time, we collectively honor and highlight the accomplishments of Black Americans as a nation and learn more about their history. All month long, we will spotlight several members of our Goodwill family and share how they celebrate Black History Month and what it means to them.
Meet LaToya Hill.
Director at the Goodwill Excel Center
LaToya Hill is the Director of the Goodwill Excel Center (GEC) Southwest DC campus. She has been a member of our GEC family since 2019. As a Black educator during Black History Month, LaToya communicated the importance of this month for her and her students, "Extremely rewarding to have the opportunity to truly reflect on where we have come as a culture", Hill said. "Students need to understand our history and reflect and learn from our ancestors' fight for equality, allowing us to be here today."
LaToya understands the importance of education in the Black community. She uses Black History Month as an opportunity to reinforce the importance of having a solid foundation in education and how students can use education to impact their lives positively. LaToya's exposure to Black History Month as a student was much different from her current students "I don't recall many programs specifically designed around educating students on Black History Month growing up, if we did talk about Black History Month, typically it was only about Dr. Martin Luther King Jr."
Now as an educator, LaToya can empower her students through the education of the history of Black Americans. She tries to incorporate Black History Month facts in her lesson plans, often using them as an opportunity to introduce historical black figures in mathematics. Latoya's favorite historical figure is Catherine Johnson, "a phenomenal mathematician for NASA," whom many students have never heard of before. She enjoys educating students on historical figures such as Catherine Johnson because "Students need to understand the high level of achievement of Black Americans in math."
Lastly, when asked what she wants people to know about Black History Month, "Black History Month is a time where we as a culture are given permission to be unapologetically Black and a time for us to honor our ancestors by spending time learning, reflecting, and celebrating the culture."
We thank LaToya for sharing her thoughts and experiences with Black History Month.