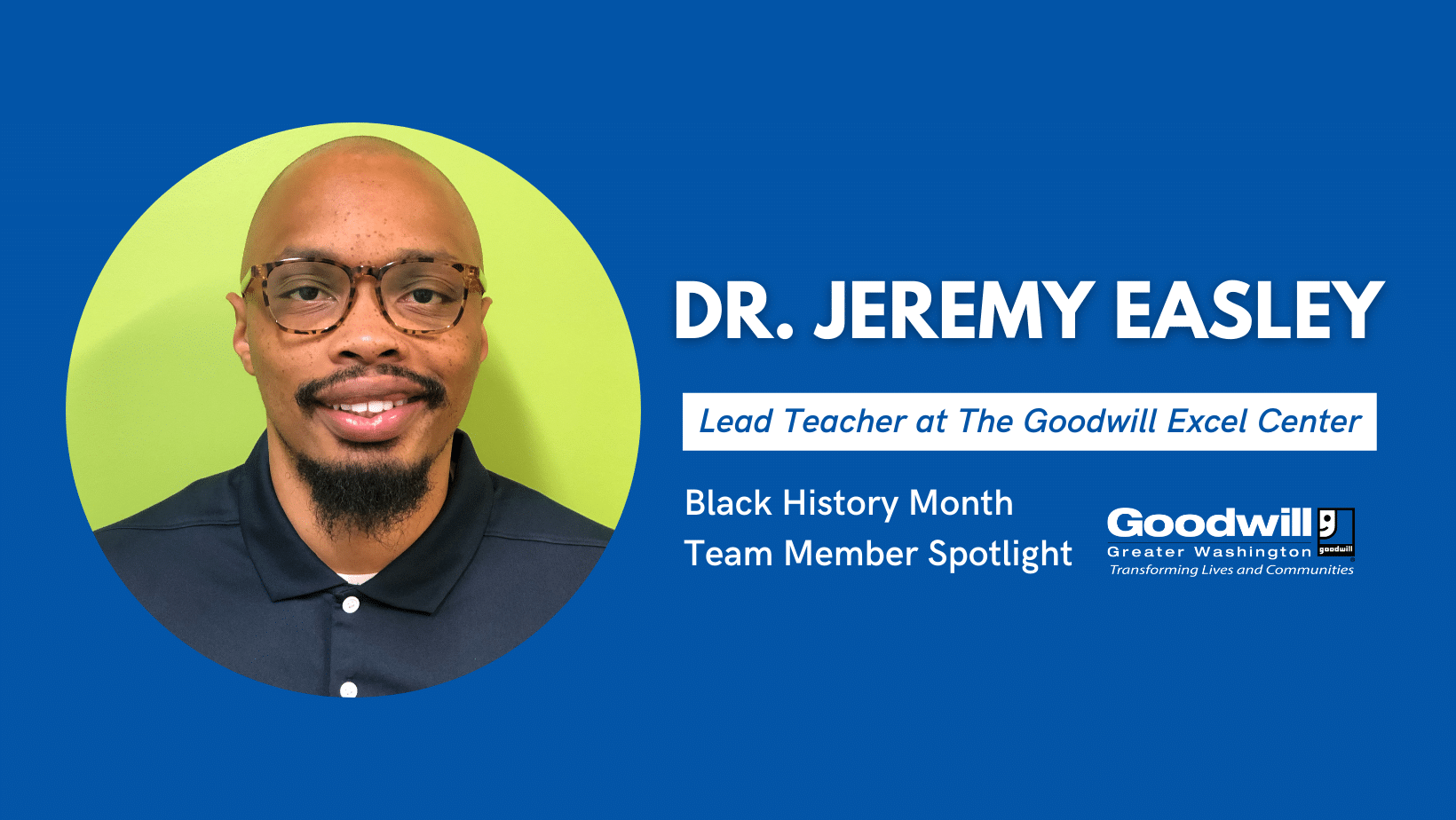 Black History Month is celebrated annually throughout the month of February. During this time, we collectively honor and highlight the accomplishments of Black Americans as a nation and learn more about their history. All month long, we will spotlight several members of our Goodwill family and share how they celebrate Black History Month and what it means to them.
Meet Dr. Jeremy Easley.
Lead Teacher at The Goodwill Excel Center

Dr. Jeremy Easley serves as the Lead Teacher for Humanities at the Goodwill Excel Center (GEC) southwest DC Campus. Dr. Easley was born and raised in Atlanta, Georgia, and has taught at the GEC since July 2022. Dr. Easley recalls that his earliest memory of Black History Month was a lesson in school where he had the chance to learn about George Washington Carver, also known as the "Father of the Peanut Industry," who developed more than 300 products made from peanuts.
Dr. Easley understands the importance of representation in our education system, "being a Black male educator is a big responsibility; most of our students do not have a teacher that looks like them until high school, so for me to be able to provide that representation means a lot to me." However, we shouldn't be surprised by Dr. Easley's choice to become an educator, "Growing up, I looked up to my father because he was a man of principle, college professor, and a minister."
When we asked Dr. Easley what Black History Month means to him, he mentioned, "It's important for Black people to understand Black history and where we come from, but it's also important to understand that Black history is more than a month, and recognizing the contributions of Black Americans cannot be relegated to one month." To combat this Dr. Easily educates his students on Black history year-round he states, "we are always looking at the contributions of Black Americans, I try to educate our students on Black Americans that have been influential in our government and locally here in DC."
We thank Dr. Easley for sharing his thoughts and experiences on Black History Month.