Earth Day Spotlight: How Goodwill's Green Efforts Go Beyond the Environment
When it comes to sustainability, many business leaders are often left scratching their heads on what it actually means, and what the benefits are of becoming a sustainable business.
The economic benefits of business taking a green approach can be explained by the triple bottom line concept, alternatively known as the 3 P's of sustainability.
The Triple Bottom Line or Three P's focuses on the intersection between people, planet, and profits.
 People refers to the social aspects of an organization's operations.
The planet refers to how an organization impacts our planet and the environment.
Profit refers to a company's ability to turn a profit.
However, sustainability is more than just improving an organization's bottom line. There should be a genuine focus on supporting the company, the local environment, and those who exist in it.
Throughout Goodwill's history, the organization has been at the forefront of the recycle/reuse movement, facilitating the wide-scale donation and repurposing of used consumer goods that would otherwise end up in landfills while creating employment opportunities in the process.
In late 2020, we opened the Goodwill Sustainability Center, a 55,000-square-foot facility located in Suitland, MD. The goal of the Sustainability Center is to increase our participation in the circular economy and create jobs that foster environmentally friendly commerce.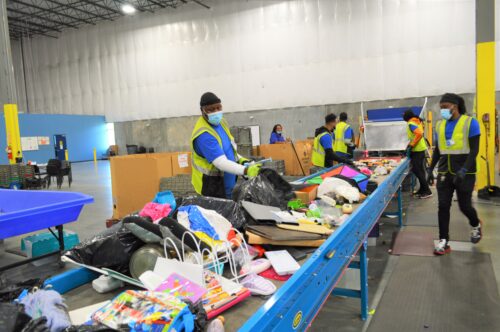 In addition, by maximizing Goodwill's ability to process and repurpose donated goods, we hope to vastly increase the volume of goods able to move through Goodwill's supply chain. To accomplish this, Goodwill is in the process of exploring and investing in new technologies to break down plastics and textiles and looking for creative solutions to increase our control of the salvage process to ensure the development of repurposing and recycling of all possible donated items.
In 2020, Goodwill operated over 20 retail stores and employed over 600 individuals at our retail and donation centers. As a result, we received 738,196 confirmed donations of household goods and kept more than 25,836,860 pounds of materials out of area landfills.
Looking beyond the planet, Goodwill of Greater Washington doesn't just emphasize environmental sustainability practices, but also economic and cultural sustainability. We believe in taking a holistic approach towards the intersection of all three levels of social sustainability that are required to develop a fully engaged and successful community.