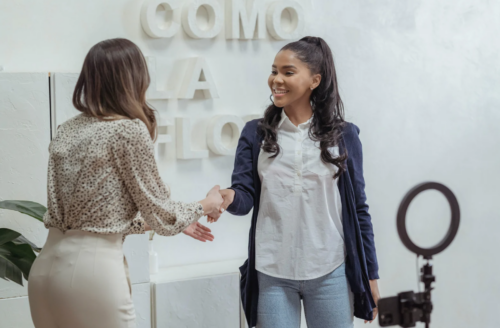 Welcome to National Volunteer Week! Established via an executive order from President Nixon in 1974, the goal of the week is to thank all those who selflessly give their time to help those in need. This year's theme is "Empathy in Action" and we can certainly see that as so many have come forward to help those millions of refugees affected by the war in Ukraine.
We thought about spotlighting the hundreds of volunteering opportunities available in the DC region. However, we chose to look at a volunteering effort that is something any of us can do in our everyday lives. Mentoring.
As we progress through a career, we learn so many things about business – and people – that are not taught in textbooks. This experiential knowledge is something we can pass along to the next generation. We have all benefitted from the advice and guidance from those with more experience than ours. This "oral history" of working, if you will, has helped shape many a career.
Mentoring is a way of giving back – call it paying backward. There are several ways to approach becoming a mentor.
Some talk about the three A's: Being available, analytical, and an active listener.
Others mention the three C's: Clarity, communication, and commitment.
There is another school of thought that outlines the seven roles of a mentor: teacher, sponsor, advisor, agent, role model, coach, and confidante.
Each mentor/mentee relationship is different but is built on trust. The mentee needs to believe you have their best interests at heart. That you have a stake in their growth and success.
They also need to believe in your credibility. Sharing your story in an honest and open way is one way to build their trust.
Some other tips:
Have empathy – Understand where the mentee is and realize you were probably there at some point in your career. Try to remember how that felt.
Place the responsibility in the mentee's hands – Make yourself available but make sure the mentee is proactive in developing the relationship. Also, remember that you are a guide. The actions are the responsibility of the mentee.
Communicate and listen – The basis of any great relationship.
Be willing to give constructive criticism – We all make mistakes. The key is not to make the same mistake twice. At the same time be ready to point out positive achievements. We all need wins.
There are also tangible benefits for the mentor in this process. If you are doing this within your organization you are improving employee performance, enhancing retention, creating a stronger bench, and providing a path for succession. By the giving of yourself, you are enhancing your leadership skills and image in your organization. Plus, in the end, you get to reap the satisfaction of leaving your company – and the world – in a better place.  
We could dive down a rabbit hole of "do's and don'ts" when it comes to mentoring. The bottom line is – are you willing to volunteer your time and experience to help another person achieve the same level of success you are enjoying?
.
---