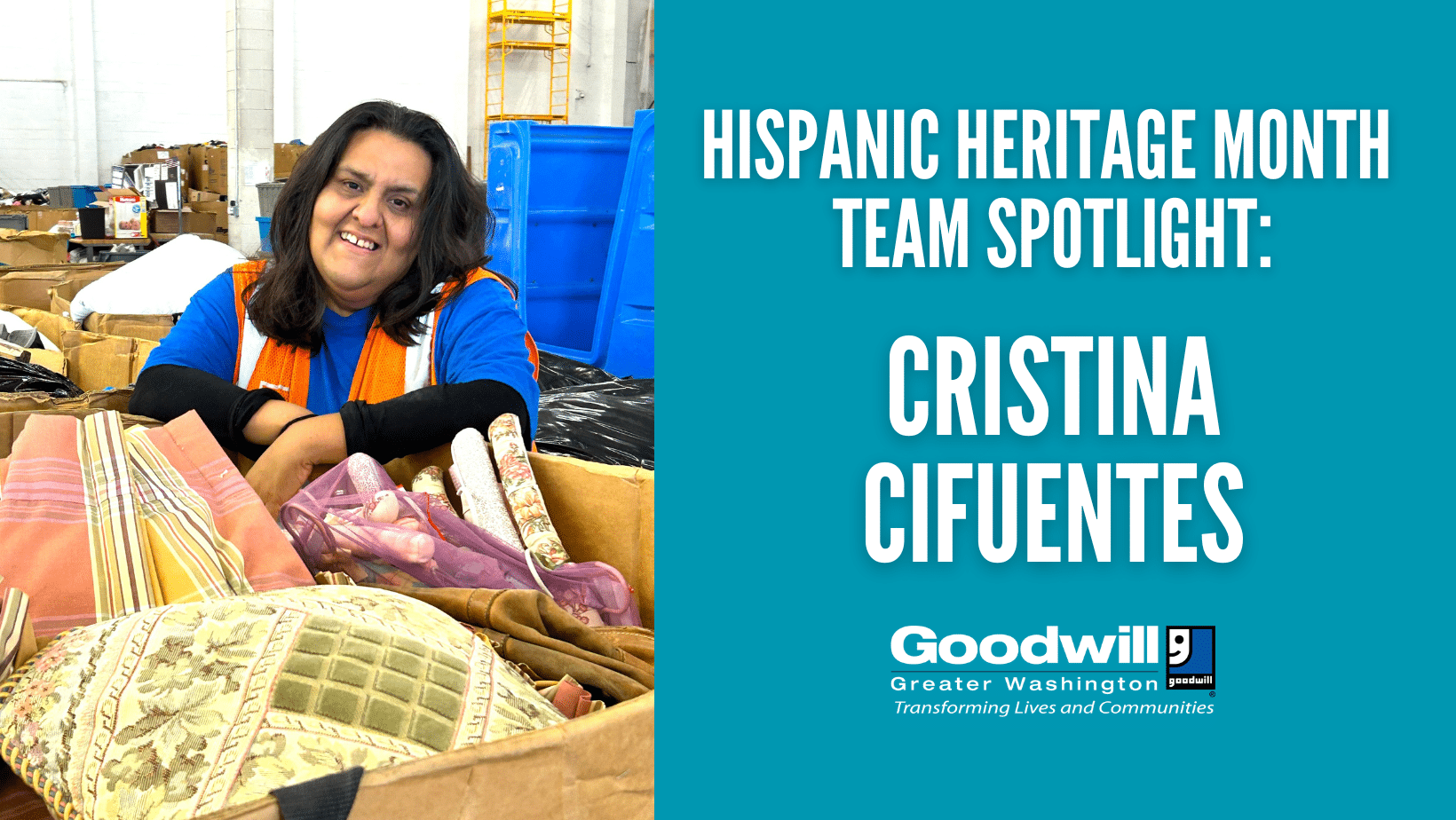 Cristina Cifuentes - Embracing Cultural Traditions
Cristina Cifuentes, a Senior Merchandise Processor at our General Green Warehouse, is a valued member of our team with a tenure of 5 years; Cristina brings the vibrant heritage of Guatemala to our Goodwill family. As we celebrate Hispanic Heritage Month, let's dive into Cristina's cherished traditions and experiences.
Cherished Tradition: Cristina fondly recalls her Guatemalan Christmas celebrations. In Guatemala, her family would lay out pine needles around their home, creating a refreshing pine aroma that filled the air. The pine needles would stay until January. The most magical moment was at midnight on Christmas Eve when they would gather to enjoy Christmas meals and open presents.
Honoring Hispanic Heritage: Cristina appreciates the significance of Hispanic Heritage Month in the United States, recognizing the importance of dedicating a month to celebrate diverse cultures. She shared, "It makes me proud that there is a month dedicated to Hispanics in the United States."
Message of Cultural Diversity: At Goodwill, diversity is a cornerstone. Cristina enjoys the opportunity to work with colleagues from various backgrounds, fostering an environment where learning about different cultures is part of the everyday experience. She believes that understanding and appreciating cultural diversity enriches our lives. Cristina added, "We are always learning from each other."
Favorite Dish: Cristina loves sharing the flavors of Guatemala with others. She prepares Tamales Rojo, a delicious dish made with red sauce and pork, for dinner. For breakfast, she delights in making Desayuno Tipico, a meal consisting of eggs, beans, and plantains with cream. She also enjoys introducing others to Baleada, a Honduran dish that includes corn tortillas, refried beans, eggs, and cheese.
Inspiring Figure: Cristina's role model is her father, a man of unwavering principles who came to the United States at 16. He began as a dishwasher at a Chinese restaurant and later secured a stable job with WSSC, where he still works at the age of 73 as a dump truck driver. Cristina admires his strong work ethic, commitment to family, and the example he set for her. She shared, "My father has always been my source of inspiration."