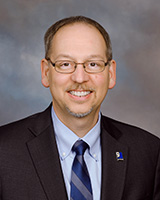 Jeff Cole serves as Goodwill of Greater Washington's Chief of Expansion. He joined Goodwill of Greater Washington in January 2008, bringing with him over twenty years of management and leadership experience.
Previously, Jeff spent five years at Capital One, where he was a three-time winner of the prestigious Circle of Excellence award. Jeff was the Business Information Officer for their $15 billion internet banking business, and played a critical role in several large-scale IT infrastructure initiatives. Prior to that, he spent six years in the telecommunications industry with MCI and Cable & Wireless, and eleven years in banking with First Virginia Banks, Inc.
Jeff has served on the Board of Directors of two local non-profit organizations: The Ashley Fister Cole Foundation and The Hugh Gregory Gallagher Motivational Theatre. He is also on the Finance Committee of his church and is a member of Toastmasters International, an organization that promotes the development of communications and leadership skills.
Jeff earned a Bachelor of Business Administration degree from The College of William and Mary and a Master of Business Administration degree from George Mason University. He resides in Northern Virginia with his wife and two sons.