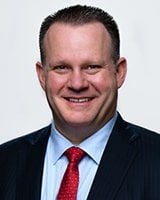 Donald "Blue" Jenkins, is AltaGas' Executive Vice President & President, Utilities and President, Washington Gas. In this role, Mr. Jenkins oversees the development and execution of AltaGas' strategic plan and advances the strategy of implementing an operational excellence model across its U.S. Utilities.
Mr. Jenkins is a seasoned executive with more than two decades of experience in all facets of the energy industry. With senior leadership roles in commercial strategy, business development, trading, information technology and safety, he brings a comprehensive understanding of the energy value chain across the utilities and midstream sectors. A results-oriented leader witha proven track record of driving transformation and building high-performance organizational cultures, Mr. Jenkins is also a champion of diversity and safety leadership.
Most recently, he served as Chief Commercial Officer at EQT Corporation, a premier U.S. integrated gas company. In this role, he oversaw all aspects of commercial operations, including financial planning and strategic decision-making, commodity sales, operations, logistics, contracting, risk management IT and business development. Prior to EQT, he held multiple executive roles at BP including serving as Senior Vice President, North America Gas and Power, and was a key member of BP's U.S. leadership team.
While at EQT Corporation, he successfully championed the negotiation of a $3.5 billion joint venture for Mountain Valley Pipeline, assisted with the company's $7 billion acquisition of Rice Energy and was the driving force behind EQT's increased bottom line.
He holds a Master of Business Administration degree from the Kellogg School of Management at Northwestern University and a Bachelor of Science in Accounting from Brigham Young University.