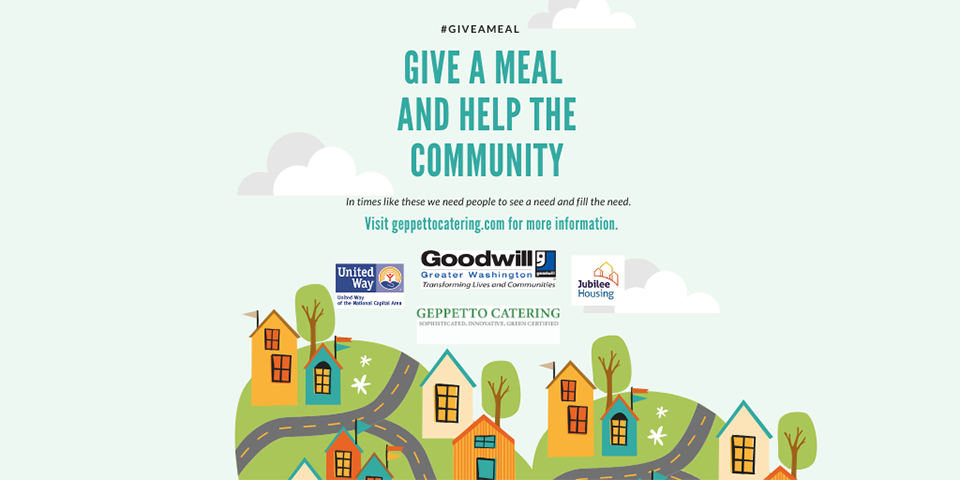 During these trying times, we have to unite with one another to do all that we can and help those truly in need within our greater Washington community. We also know that a good, fresh meal is important to maintaining one's health and immunity.
That's why we're partnering with Geppetto Catering, United Way of the National Capital Area, and Jubilee Housing, for a just-launched "Give a Meal" initiative, where we're helping to identify individuals in need that should have access to nutritious meals.
These pre-made meals are at a reduced cost, and Geppetto Catering has completely waived their delivery fees. The meals are delivered in foil containers so that they can be reheated as needed. When delivering, Geppetto Catering will call to make sure the intended recipient is home, and will then place the meal on their doorstep, so that there so that there is no hand-to-hand contact.
Please join us in participating in the, "Give a Meal" program, and in creating a smile or two in the process! From your own home, you can assist with sending hearty pre-made meals to those in need while helping a catering workforce provide for their own families.
Learn how you can give back ASAP: https://geppettocatering.com/give-a-meal-program/
*USE PROMO CODE "GIVE A MEAL" FOR FREE DELIVERY