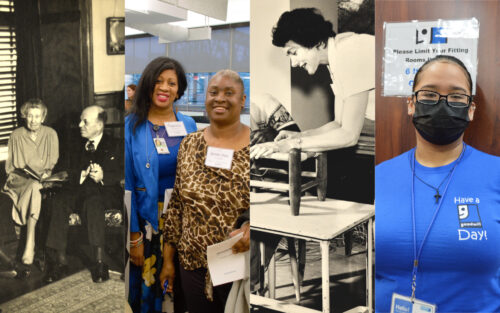 March is Women's History Month. This celebration of the contributions women have made to society began in 1981 as "Women's History Week". It expanded to the full month in 1987. This year's theme is Providing Healing, Providing Hope.
We thought we'd take this opportunity to highlight some of the significant contributions women have made to both the inception and continuing mission growth of Goodwill of Greater Washington.
Goodwill of Greater Washington was founded by a woman. In 1930, Elizabeth Murray, a social worker, and advocate for people with disabilities, who strongly believed in the Goodwill mission, initiated a campaign to establish Goodwill of Greater Washington (Goodwill) in the nation's capital. For five years, Mrs. Murray recruited community leaders and solicited funds. On May 31st, 1935, Mrs. Murray and six other community leaders signed the incorporation papers for what was then known as Goodwill Industries of Washington, DC.
Goodwill of Greater Washington's mission was funded by a woman during its rapid stages of growth. In 1939, a generous $100,000 donation from Anne Hubbard Davis allowed Goodwill to purchase its own building at 1214 New Hampshire Avenue. Thus, Goodwill of Greater Washington's legal name is Davis Memorial Goodwill Industries. By then, Goodwill had 126 employees, 5 stores, a dry-cleaning plant, shoe and furniture repair shops, and 5 trucks.
The Goodwill Guild, a group of women volunteers, played an intricate key role in facilitating fundraisers to benefit Goodwill's mission. In 1956, Goodwill opened a comprehensive rehabilitation center to serve a large number of veterans with disabilities. Employees refinished and restored donated items which were then sold in Goodwill stores. Since then, numerous volunteers have worked diligently to help generate both money and awareness for Goodwill's critical mission to provide job training for people with disabilities and disadvantages.
First ladies love Goodwill of Greater Washington. For 52 years, we conducted The Annual Embassy Tours. These ended when the 9/11 attacks occurred for security reasons. This popular event brought people from all over the U.S. and was mentioned in the New York Times and Los Angeles Times promoting the annual event. First Ladies such as Nancy Regan and Hillary Rodham Clinton participated as chair members. All money raised went to Goodwill's mission. Goodwill was known to have had the biggest Goodwill Industries' Annual Used Book Sale event on the East Coast, which went on for 41 years. People would come from all over to start waiting in lines early in the morning to purchase their books for 50 cents. One year the First Lady, Barbara Bush, participated as a volunteer at one of the book sales held at the Convention Center.
Goodwill's current President and CEO is Catherine Meloy. Our organization is also women-led. For over a decade, Goodwill has been led by President and CEO, Catherine Meloy. Colleen Paletta serves as our Chief Integration Officer. Our Goodwill Excel Center's Executive Director is Dr. Chelsea Kirk. Our Vice President of Donated Goods & Retail is Dawn Holland. Judy Adams is Goodwill's Chief People and Culture Officer. Rosa Proctor is Goodwill of Greater Washington's Chief Financial Officer. This list does not nearly capture all of the inspirational women who are making history at Goodwill of Greater Washington.
For more information on Women's History Month, visit https://womenshistorymonth.gov/.
.
---