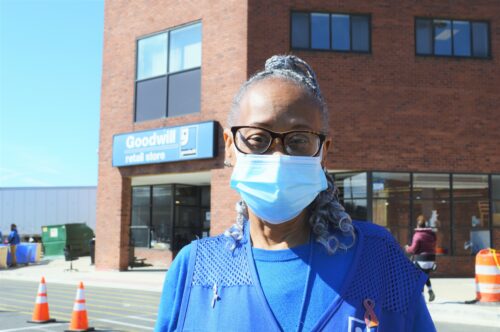 Throughout March, our nation will proudly celebrate Women's History Month, a time when we'll collectively highlight extraordinary accomplishments and historical contributions made by women. 
As a part of our organization's celebrations, we will spotlight members of our Goodwill family and share the importance of Women's History Month, in their own words, through the lenses of their unique experiences.
Meet Sharon Williams.
eCommerce Specialist, South Dakota Avenue
"When I had cancer, I'd get here, and I'd start working 'cause that's a big part of what kept me going. Surviving. You know, instead of laying in bed and aching – I felt like I had to get up and go to work. I needed to do something with myself instead of crying and pacifying. And I've got a whole lot more to live for. So I said, "I'm getting out and going. If I can get there, that's an accomplishment." Then when I got here (Goodwill), some days were easier, and some days were hard, but it kept me going."
Sharon Williams is a force to be reckoned with. After joining our Goodwill over 13 years ago, she's not only transformed the DC store's eCommerce department; she successfully conquered cancer.
GGW: Tell us your Goodwill story!
Sharon: What brought me here was my niece, LaShawn Williams. She works for Admin and recommended that I put my name into work at the DC store. This was about 13 years ago. March the 6th marks 13 years. So I came for an interview and was so fortunate, I got hired the same day as my interview. As a matter of fact, I came to work the next day. And when I got here, I was a cashier for a couple of years. Then I went into Production. Being a Donation Attendant and helping out there.
What I like about Production is that you move all the way around. From the front to the back. You can learn from each section and every person on the team and their jobs – just assisting them. You get to learn. You get knowledge. I like the guidance of Dawn, Richard, Natia, and Anita. They put you out there, and there's nothing you can't accomplish. What I do like about Goodwill and every department in this store is that if someone's out, someone else is ready to step in and take over. You work as a team.
For a time, I had the opportunity to work and train at our Ecommerce facility in Forestville, Maryland. I learned a lot there. I did shipping and packing. I did book processing too.
As an eCommerce Specialist, what I've really loved is the whole store, all of the employees, are helping out. I tell them that if they see something that is unique or interesting, to bring it to me and we'll look it up. The Donation Attendants – those guys – I give them 100% props.
What I also love about eCommerce is that every employee is on the eCommerce team. It's me and the team.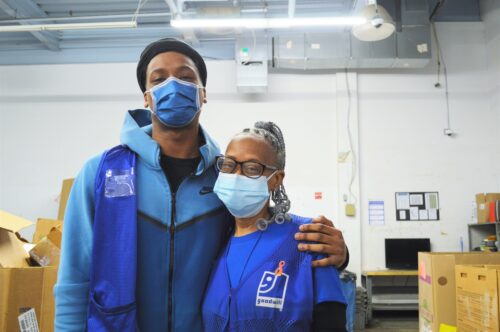 GGW: Outside of Goodwill, what brings you joy?
Sharon: I love being around people and just relaxing. I learned, after surviving cancer, I was on the go. I was living life again. Then I had to slow down. But I'm happy. I spend time with my daughter and grandkids. I just want to live and watch my three grandkids grow up – be somebody. I have one daughter and one son. I lost my oldest son, and I love them. They're my pride and joy. We all live in DC. Most of us are DC natives, but it starts in North Carolina. Near the Rocky Mountains.
My Grandpa. He told us how to go out there. Pick that cotton. Bought us each a sunhat. He taught us to be active. What I learned from him taught me how to be an independent woman. He taught me that once you are able to provide to get the basic necessities down, that life gets better and better. You've got to start somewhere.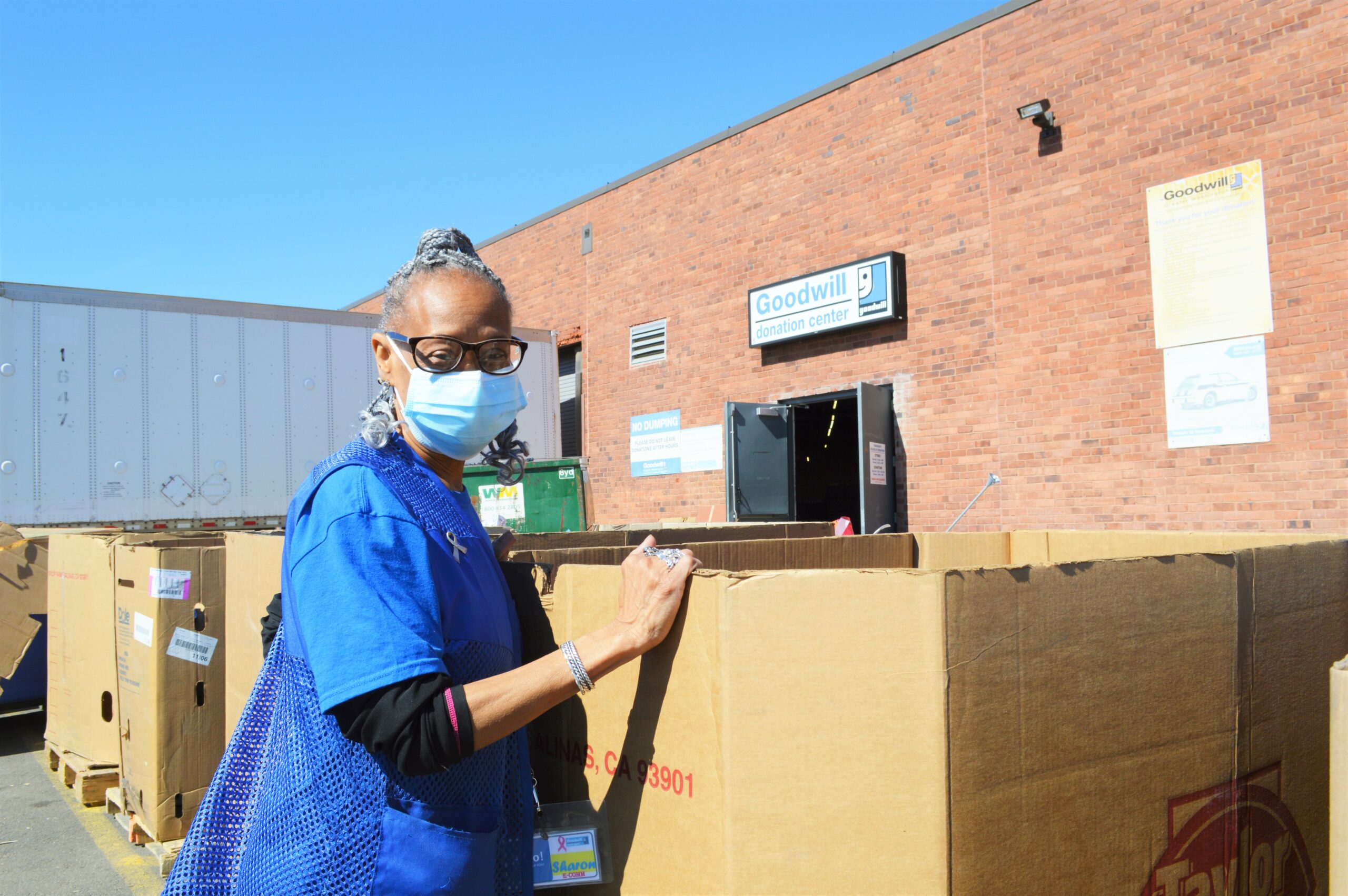 GGW: What are some of your hobbies? 
Sharon: I like bowling. Reading. Love to meet new people. Everyone can bring something to the tab;e. You can learn something new every day. We do family gatherings like holidays, birthdays – because in my family – there are a lot of January babies.
I love listening to Patti LaBelle, Gladys Knight, Alicia Keys. I love all kinds of music. Jazz.
And I love my jewelry. I love my rings. When I get new rings, I marry myself.
My ribbon pins – I hand them out to everybody, the staff. Because I want everyone who has survived – I want them to know that any kind of cancer is serious. And it's hard. You've got to struggle with it. You've got to survive it. If you stop fighting it, you're out. It takes you. You have to fight it. When I have pins, I pass them out. Because I'm proud of myself for surviving.
I had cancer in 2014, and I had my surgery in 2016. Any kind of cancer takes wear and tear on it. I look at my scar, and I call myself a survivor. Let it be known that any kind of cancer does take something from you. But it's up to you to keep going. Whatever it took from you, you can work it out, and you can control it. You've got it; make yourself that soldier. That survivor.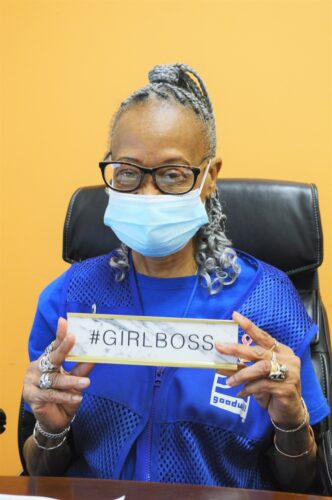 GGW: Who inspires you?
Sharon: Everyone can be a source of inspiration. My Mother and my Father. Just watching people through life, getting to know people from high up and down low.
You have to crawl before you walk. You've got to believe in yourself. You can't accomplish anything unless you have that faith in yourself.
GGW: What are some of your words of wisdom?
Sharon: Believe in yourself. You can be in the happiest relationship in the world, and it might go the wrong way. Don't give up. Keep loving yourself. You can't give up. You can't lose faith and hope in anything in life. Nothing.
Meditation has been my healing. It has brought me a long way. It's a beautiful thing. You can meditate anywhere, anytime. Through meditation, I can go through the storm, work it out, and keep going. Because nobody is worth more to you than you.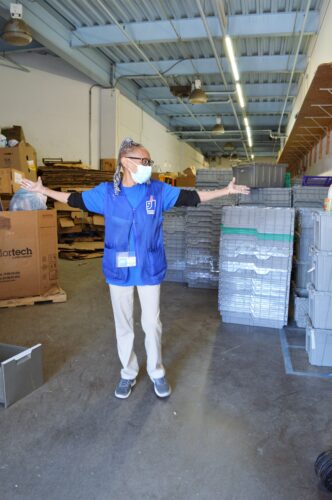 GGW: Give us a fun fact about you!
Sharon: Every year, I'm learning something new. Whatever you're learning, you've got to have it put a smile on your face. You can't ever be bored with yourself.
GGW: Anything else you'd like to share?
Sharon: I'd like to thank Goodwill and especially LaShawn because she opened the door and said go ahead and try. I love her for that. When I came here, I made a promise in my mind that since she works here and has been here for years, I wasn't going to let her down. She has a name. And I am going to make a name. I wanted her to be proud of her Aunt. I want us to keep our name going.
Thank you, Sharon, for taking the time to share your unique perspective on Women's History Month and your Goodwill story. Your unwavering courage, fearlessness, and passion are palpable. We're truly lucky to have you on our team, making history.
---