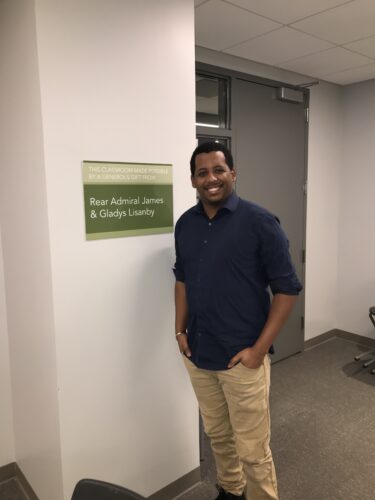 Black History Month is celebrated annually throughout February. During this time, we collectively honor and highlight the accomplishments of Black Americans as a nation and aim to learn more about the African diaspora. We will spotlight several members of our Goodwill family throughout the month and share how they celebrate Black History Month and what it means to them.
Meet Anthony Eldon.
Arts and Humanities Instructor at the Goodwill Excel Center
Anthony Eldon, or "Mr. E," has the pleasure of serving as the Arts and Humanities instructor at our Goodwill Excel Center (GEC). Anthony joined the GEC staff in October 2021 and credits the GEC for giving him and his students a safe space to "allow me the opportunity to share authentic stories with students" in an effort for them to understand their history and take pride in themselves.
Telling authentic stories is a much part of Anthony's day job as it is his side job. "Outside of being the Arts and Humanities teacher at the GEC, I'm also a social media influencer who focuses on elevating black stories and sharing black history." Anthony credits his passion for learning and teaching black history to role models such as Malcolm X, Angela Davis, Jane Elliott, and Carter G. Wilson. Each one played a
To Anthony's credit, he has over 126,000 Instagram followers on his social media page. In preparation for Black History Month, Anthony will take part in "28 days of black history", where he will post every day during February to commemorate Black History Month. His goal is to bring attention to modern black history moments and highlight black businesses, including social justice lawyers, positively impacting their communities. To Anthony, "Black History Month is a source of pride and time spent to understand his history, but also to appreciate what we have accomplished over time in the face of many obstacles."
Thank you, Anthony, for sharing your insight and personal experience on what Black History Month means to you.
---