Dressing Up for Halloween at Work: 10 Do's and Don'ts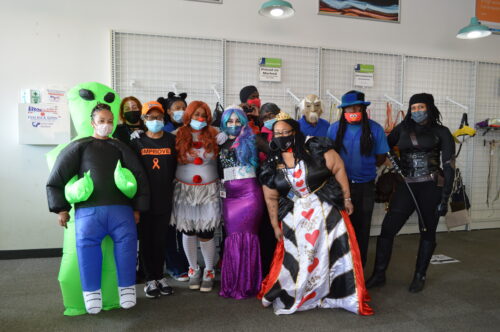 For the first time in a few years, we are faced with the annual October issue – costuming at work: yes, or no? 
Halloween is that fun holiday that allows us to bring child-like joy to the workplace. It is certainly within bounds to decorate your office or cubicle. Free candy? Why not (just be aware of any peanut allergies)?!
But donning now our spooky apparel? That all depends on your workplace culture and the attitudes of your co-workers. You certainly don't want to show up as Batman while everyone else is still attired in business casual. For the sake of this week's post, we will assume that your workplace allows – and even encourages – getting dressed up for Halloween. Here are a few do's and don'ts you might want to consider.
Don't wear any costume that starts with the word "sexy." You are still at work, not some party at your friend's house.
Do check your company's dress code. Even if you are allowed to costume, there may be some pre-determined parameters you need to follow.
Don't bring any replica weapons to work. You do not need building security knocking on your door. You also don't want to potentially create an anxious situation.
Do be respectful of other cultures. Belittling or disrespecting a culture for the sake of humor is not okay. Don't be "that" person.
Don't go overboard. Keep your costumes simple if that's not the culture of your office, and there are no costume contests. Coming in as the Incredible Hulk with all the green makeup might be a bit over the top…and get all over your supplies.
Do keep it simple. As per the previous item, you will want to wear a costume that is easy to change out of. You never know when a client or corporate officer may pay a surprise visit.
Don't politicize your costume. This is the workplace, not a street-level protest. Avoid the political masks. This is Halloween. It is supposed to be whimsical.
Do wear something comfortable. If you go full costume mode, make sure it is something you can be in for the next eight hours.
Don't costume shame. Participation is not mandatory. If a co-worker chooses not to participate, don't call them out.
Do participate in group ideas. If the entire office wants to sport an 80's vibe, then play along. It is good for team building and chemistry.
Overall – use common sense. If you are not a costume person, then don't participate. You could just wear a mask over your eyes or a funny hat. Or put on a sports jersey of your favorite team and pretend you are a player.
Read the room and have fun!