The No-No's of PTO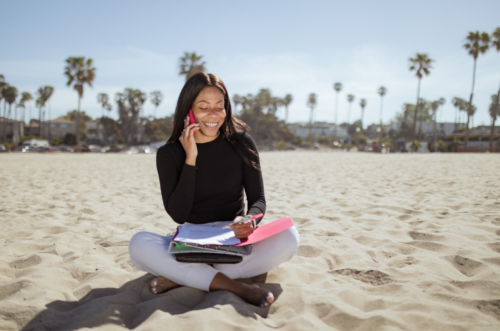 "Vacation all I ever wanted/Vacation had to get away…."
Welcome to summer—better known as vacation season. After two years of restrictions, the pent-up demand for "getting away" is finally being released. Vacations – or Paid Time Off – are essential for our physical and mental well-being.
However, in a post (ish) pandemic world, the lines between work and away-from-work have gotten blurred. Traditionally, there has been a hard line separating our workplace environment from the rest of our life. That has become more of a grey area as we have become more accustomed to working from almost everywhere.
That could be a problem when you're on vacation.
Here are a few do's and don'ts to consider during your PTO period:
 First – take the time off! Too many of us think we are so essential and valuable that our companies will not continue to run smoothly in our absence. A positive from the pandemic years is that work/life balance is a higher priority for so many. Also, smart companies know their team members can burn out and should encourage the full use of PTO.
·         You can find reams of studies and blogs online that encourage you to unplug while on vacation. Unfortunately, this is increasingly difficult as our personal phones are usually connected in some way to our work network. In reality, you won't unplug. You'll be Googling local attractions and searching for restaurant reviews. Perhaps you can consider deleting your work email app from your phone while you're off. That still leaves you the opportunity to connect to work via your tablet or laptop. Just. Don't.
Before you leave for vacation, be sure to delegate any tasks that need to be completed while you are gone. This gives you peace of mind and creates a stronger and more well-balanced team.
 You will naturally set up your Out Of Office email response.DON'T say you'll have limited access to e-mail. DO say you'll have NO access to email, and if this is an urgent need, contact someone else.
If you have a company phone, DO leave it at home. If not, DO ignore ANY calls you get from co-workers.
There are also things you can do (or not do) to your fellow team members while they are on PTO.
DON'T call anyone from your team while they are on PTO. Respect their time away. This goes for emails, too. You may think your email is just sitting in a queue to be reviewed when your co-worker returns. However, if they have not turned off their notifications, they would get pinged. Just leave your email as a draft and send it when they return.
Encourage your company to adopt a policy similar to the one Daimler implemented for their employees a few years ago. If you email a Daimler employee while they are out, you get a three-option message. Your email will be deleted; you can e-mail someone else if this is an emergency, or you can email the person when they return. This not only eliminates the chance a worker will be interrupted while away but also reduces that mountain of messages we all face when we get back.
Hopefully, you love your work. Will you still be in love when your work won't leave you alone? Working during your PTO can lead to decreased motivation when you're back on the clock.
Enjoy your time off – you've earned it.
Sources:
.