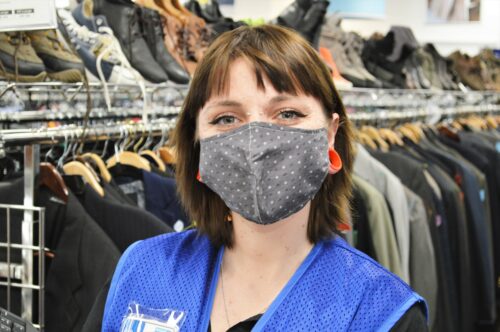 Throughout March, our nation will proudly celebrate Women's History Month, a time when we'll collectively highlight extraordinary accomplishments and historical contributions made by women.
As a part of our organization's celebrations, we will spotlight members of our Goodwill family and share the importance of Women's History Month, in their own words, through the lenses of their unique experiences.
Meet Angela Kresslein.
Sales Associate – Gaithersburg, MD
GGW: Tell us your Goodwill story!
Angela: I served at restaurants for four years and was looking for something new. I wanted something more community-related. I found it here at Goodwill. I used to live in Waldorf but I recently moved to Gaithersburg.
In Waldorf, I used to shop a lot at the Goodwill on the highway. And every time I went in there, I felt a sense of community. When I applied, I wanted to feel that opportunity again. I really enjoy working with the people that are here.
GGW: Outside of Goodwill, what brings you joy? What are your hobbies?
Angela: I really value my friends. I spend a lot of time PCing gaming and I built my own PC computer. My Dad works in the field and I've always had a fascination with it. I am actually going to school right now to get my Cyber Security degree.
I like to skateboard. Over the quarantine, I didn't have much to do. So I just went out and learned new tricks on the board. I've been skateboarding for 5 years. I'm now 23 but started was I was about 18.
I also love anime. I actually just got back from a convention that was really awesome at the National Harbor called Katsucon. I got to dress up for it, wearing a look that I composed myself.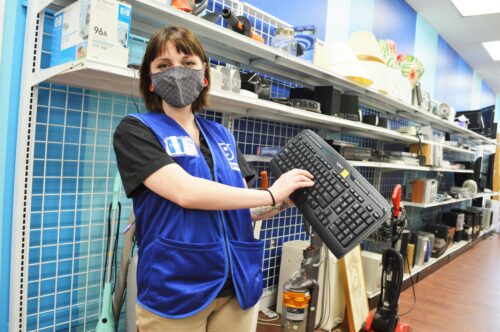 GGW: What does Women's History Month mean to you?
Angela: It's a month that reminds everybody that all year long, we need to fight for a better world where women feel more accepted.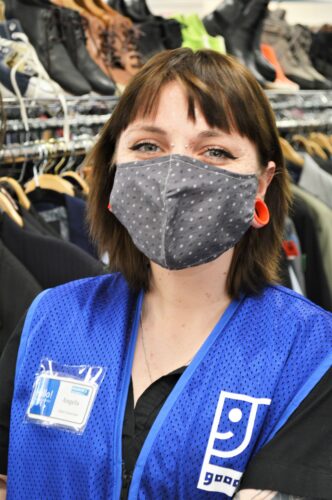 GGW: Who inspires you?
Angela: When I was young, I had a neighbor that I grew up with. Her name is Tara. We still keep in touch and she's like an older sister to me. She taught me everything there is to know about embracing the beauty and who you are.
I also think that artists who use their platform to embrace women's rights are doing really great justice to society.
GGW: What are some challenges that you've faced as a woman in the workforce?
Angela: In society, it's tough to feel like you have a voice sometimes. Women in corporate workplaces, especially. Sometimes there are issues present and if we're able to acknowledge them and spread awareness around how to be respectful towards women in the workplace, that would benefit everybody – customers, employees – all.
GGW: What are some of your words of wisdom to other generations of women?
Angela: What you feel is valid. Don't let anyone tell you what you're feeling isn't valid. Stay strong and stay you.
In the service industry, there have been situations where I felt like I wasn't respected or heard the same. I want to stand up for women who feel similarly.
Angela, thank you for taking the time to speak with us about your perspective on Women's History Month. We are lucky to have you on our team – an incredible woman who is making strides in the largely male-dominated industry of Cybersecurity.
---