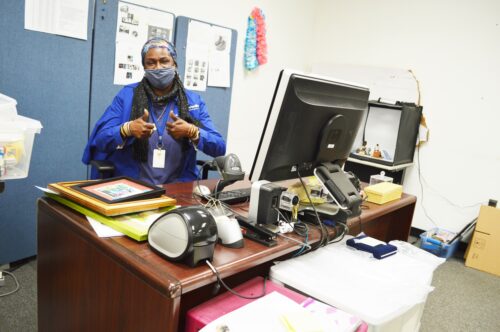 Throughout March, our nation will proudly celebrate Women's History Month, a time when we'll collectively highlight extraordinary accomplishments and historical contributions made by women.
As a part of our organization's celebrations, we will spotlight members of our Goodwill family and share the importance of Women's History Month, in their own words, through the lenses of their unique experiences.
Meet Rhonda Bilal.
Lead Sales Coordinator, eCommerce
"Do what you need to do. Feel your hands, feel your head, feel your world. Fill it up. So that when that (motherhood, spouse) comes, you will have so much more to offer. And you don't look for it in another person. You come with it. You come with confidence; you come with happiness. You come with the experience. You come with the talent. You come with it."
Nearly a decade ago, Rhonda joined the Alexandria, VA Goodwill team, searching for new opportunities and a place to grow. She was unemployed after previously working for Metro Access and UPS and was looking for more than a job. She wanted to be somewhere that valued learning and listening. So Rhonda visited her local unemployment office. Goodwill's recruiting pamphlets caught her attention, and she immediately applied for a role at Goodwill. That was in 2014. Since then, she's navigated multiple opportunities within Goodwill and now proudly holds the title of a Lead Sales Coordinator on our e-Commerce team.
Rhonda's history-making efforts at Goodwill are inspiring. Many years ago, at our Alexandria, VA location, she quickly transitioned from a part-time to full-time team member and was the first Goodwill e-Commerce liaison in her region.
When asked about her role at Goodwill and why she finds joy in e-Commerce, she explained, "I've always been interested in history. You see old buildings and bridges even riding through the city, and you wonder about their past. Who crossed that bridge? If these streets could talk, what would they tell you? I have a nostalgic curiosity for things. I like to be able to know the history of certain items. I like vintage. Vintage brings back memories; they don't make things like that anymore!"
Outside of Goodwill, Rhonda finds harmony and enjoyment through daily experiences – both big and small.
"I am passionate about the world and what goes on in the world. The kindness – simple kindness that people bring to each other. I love the laughter of children. Long-term relationships with people you haven't seen in a long time, when you connect, there's nothing like it. And it carries you for such a long time. Just the simple things. It's honest, pure joy. I enjoy helping other people.
I like hanging out with my family when I get home from work. I have family in different parts of the country and I love when my Grandchildren say, "Mema!"
I love art! My mother and father were great artists. But I love to go out and visit the museums. I also love music. Prince is my favorite artist."
Family is a priority in Rhonda's life, and when asked about those who inspire her to keep going, she immediately responded with, "My grandmothers."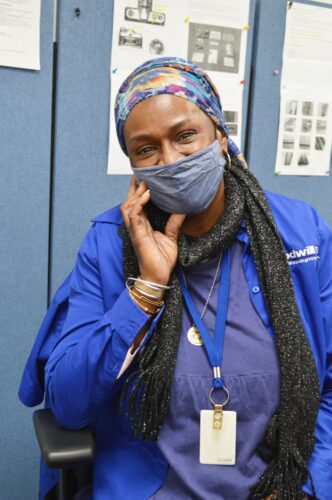 "I would pick from my own tree. MY grandmothers, coming up in the time that they did. On my mother's side, she was a widow early and had to get out there and become a businesswoman. One thing I learned about her is that she and her husband bought a house. When he passed, she knew how to hang the drywall. She made rooms downstairs in the basement. She ran her electricity and made a single-dwelling apartment. She turned her home into an actual space where she rented out apartments. And she had a hair salon! My Grandmother always had a house full of people, coming and going. And on my father's side, she was a single woman from the South with five children. She said, "Hey, I'm going to make a better life." So she came North. My Grandmother built a new life but was always proud of who she was. One thing that stuck with me that she said was, "I know you're going to do what you want to do but at least learn to listen." When I was younger, I didn't understand it, but I realized that you don't want to miss the message as I got older. It's important to listen. And you never know how information is going to come to you. So be still long enough to take it in."
Thank you for sharing these deep words of wisdom with us, Rhonda! You are truly making HERstory at our Goodwill.
---