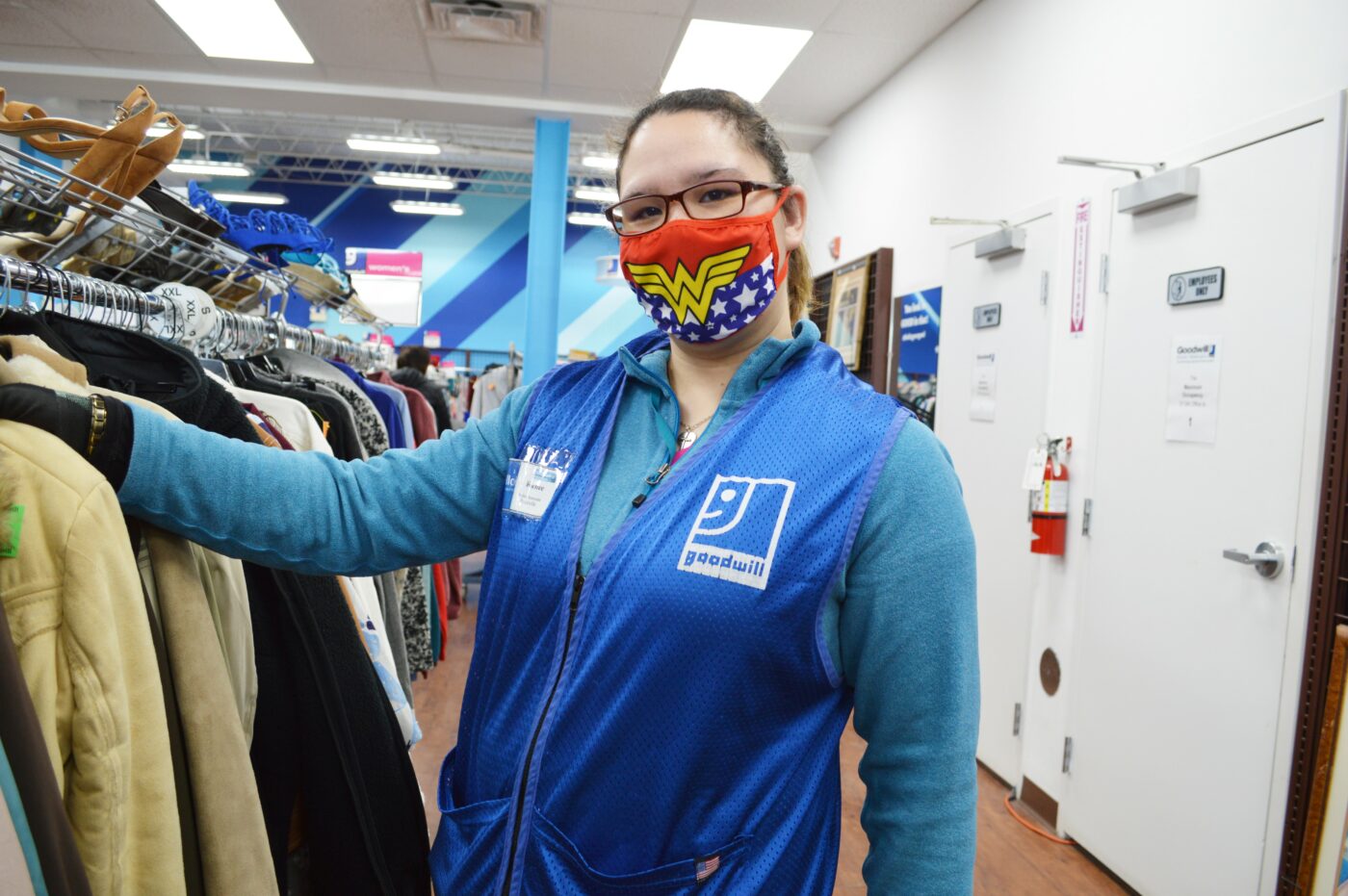 Throughout March, our nation will proudly celebrate Women's History Month, a time when we'll collectively highlight extraordinary accomplishments and historical contributions made by women.
As a part of our organization's celebrations, we will spotlight members of our Goodwill family and share the importance of Women's History Month, in their own words, through the lenses of their unique experiences.
Meet Renee Duda.
Sales Associate – Rockville, MD
When Renee's Mom passed away, it crumbled her world. She had to find a way to support her family and meet their basic needs. Her 10-year-old son is her world, and it was her priority to ensure that he could live the best and happiest, most fulfilling life. She sought new career opportunities to improve her family's financial situation. Nearly three years ago, she applied for a position at Goodwill. And the rest is history. We are truly grateful to have Renee on our team, a strong and courageous woman making HERstory at our organization.
GGW: Tell us your Goodwill story!
Renee: It was right after my mom passed that I got this job. I wish I had gotten this opportunity sooner.
It's actually a really funny story. When I first applied for Goodwill, I got denied but I was then called in for an open interview. This had been a year since my mom passed away and I really needed a job. I have a 10-year-old and at the time, I had to find a job to support me and my family. So I was brought in for an interview with Gaithersburg and somehow, Nigel heard our interview and wanted me to work at Rockville. So he took me aside and interviewed me for Rockville. I really like it here.
My mother-in-law helped me apply for my job here. I had never heard of Goodwill but now I love it.
What keeps me here is my family's support. My husband supports me and I'm trying to better myself. I think my Mom would be very proud of me because it was a really hard year when I lost her. It crumbled my world. But, I know that since I've been at Goodwill my Mom has been helping me stay here and wake up. I love coming here. I love the employees I work with. I love coming to work every day.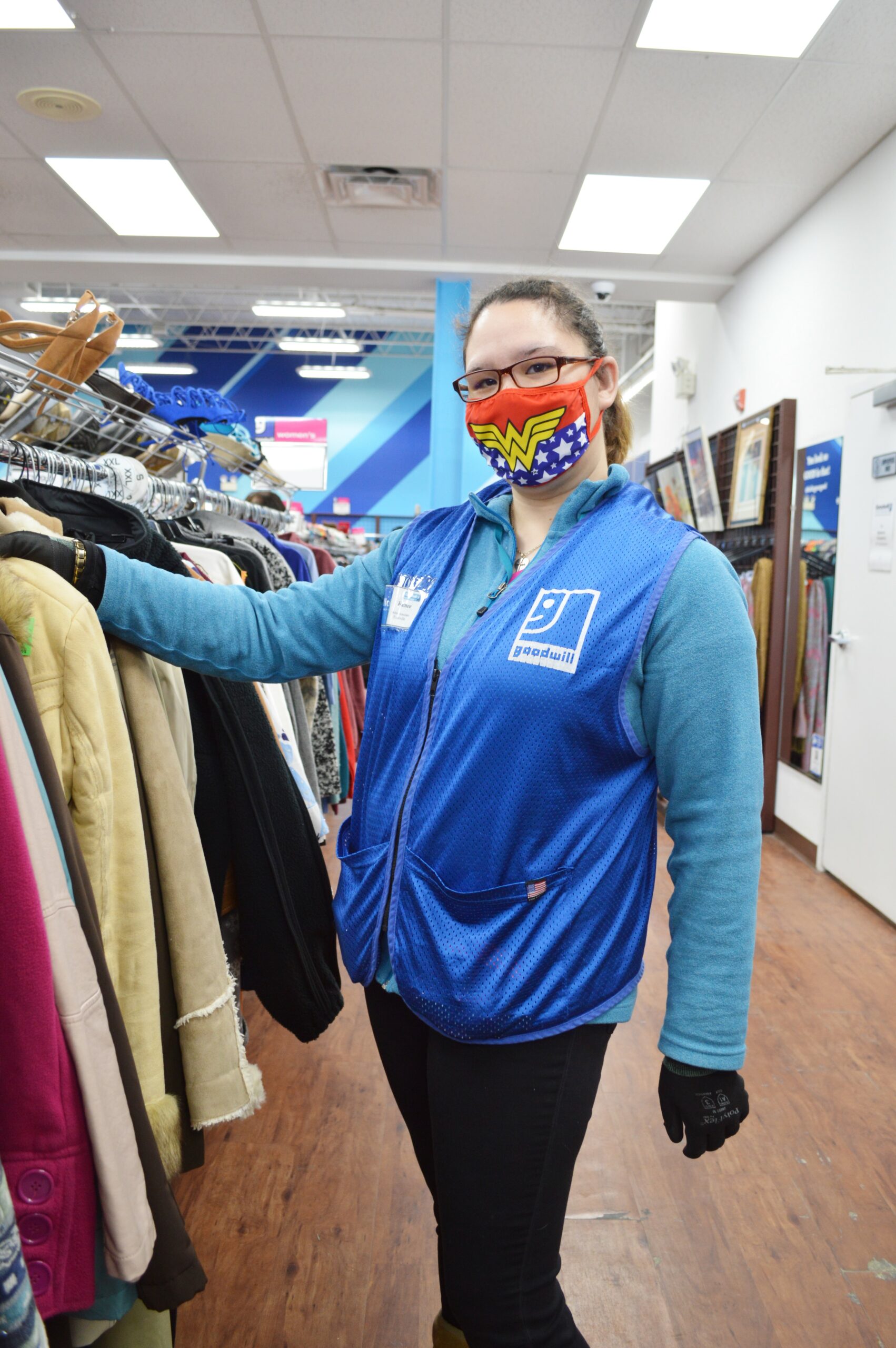 GGW: What are some challenges that you've faced as a woman during your career?
Renee: When I lost my mom – you don't think about losing your parent and what you have to do when they go. You have to think about your responsibilities. You have to learn to do everything on your own. When I lost my Mom, that really opened my eyes. I had to find a place of my own. I was not ready for that. This job now has helped me survive in this world.
When I lost my Mom, I realized that I needed to change myself. Being alone…I am now conscious of how I spend my money now. That was truly eye-opening. When you're alone and have a kid, you have to change for your children.
GGW: Outside of Goodwill, what brings you joy?
Renee: Outside of Goodwill, I spend time with my son. He's my priority. We like to watch tv and movies, play with my mother-in-law's dog. He's my inspiration. Without him, I don't know where I'd be. He helped me when we lost my Mom.
GGW: Who inspires you?
Renee: I have my Mother-in-law, who is also like my second mom. She has been there for me and my family. She helped me get this job.
The second person is Andria. Before, we never talked until after the pandemic. And I saw her go from Sales Associate to Production Manager. She's helped me with a lot of personal things and has been a great friend. She's encouraging and motivating. She helps me see that I can go high if I really work for it. Like her, I want to move up in Goodwill.
GGW: What are some of your words of wisdom?
Renee: You've gotta work for it. Find a job that you like and prove yourself. You can get up to the top.
Thank you, Renee, for taking the time to share your unique perspective on Women's History Month and your Goodwill story! You are truly a Wonder Woman both for your Goodwill family and your son.
---