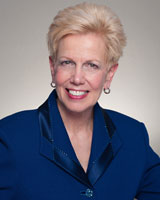 What is community? It is the people we know – our family and friends – and where we feel a sense of connection and belonging.
At Goodwill, we take that spirit of community a step further. We dig into what it takes to build a stronger community – to ensure that individuals and families have the resources and support they need to thrive.
Education and employment are key to how we accomplish that change. We know that a job means more than where you go to work. It empowers people to achieve greater stability and security, moving them closer to the future they envision for themselves and their families.
You are part of the caring Goodwill community that makes change possible. You created new opportunities for more than 2.100 people across the Greater Washington Region we call home through the end of November. I hope you realize the lasting impact you make through your belief and commitment in this important work.
It is the story of 2021 Goodwill graduates like Damien and Takia who gained new career pathways thanks to you, Goodwill and our employer partners. It is the story of Goodwill Excel Center graduates like Diondre who are investing back into our community to make opportunity possible for others by educating the next generation. What I love about Diondre's journey is that he learned about the Excel Center from his mother who graduated in 2019.
It is the impact of longtime partners like Capital One who along with Goodwill champion initiatives to foster economic opportunity, close gaps in equity, and create greater environmental and social sustainability.
That impact is also about how we continue to spark conversation and bring our community together through initiatives like Finding Your Good that allow people to find ideas and inspiration to think of how we can all be more sustainable.
Your partnership with Goodwill creates lasting impact that goes out in our community to transform and change other lives. We know there is even more to do as we prepare to start a new year, and hope you will continue to walk with us and those we serve together in the journey ahead.