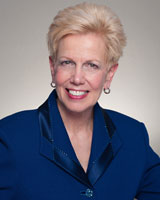 Last year was unequaled – from the pandemic, to the economic crisis, to racial and social justice movements locally and across the nation.
Yet even with uncertainty, our resolve was clear – Goodwill's commitment to continue serving our students and graduates, our associates, and our neighbors in the Greater Washington region. Your trust and support made that possible. You gave education, training, opportunity and hope to nearly 3,000 individuals and families in 2020.
The past year affirmed our values, as difficult times often do. It also showed the commitment of supporters like you who share the belief that we are stronger when everyone has opportunity to achieve their highest level of personal success.
Our Goodwill has always been committed to providing opportunity for the most marginalized in our community, and we know this continues to be a challenging time for families. More than 218,600 of our neighbors ended 2020 out of work, according to the Bureau of Labor Statistics.
Unemployment rates for women in the pandemic have outpaced those of men and that impact has been even greater for women of color. That is why we must be bold and innovative in our approach to be part of the solution.
Navigating the new realities created by Covid-19 required us to think differently about how we deliver our mission in partnership with friends like you. It made us push even further and harder for those who come to us such as Natacha, a 2020 graduate of our first virtual healthcare training program.
Her story and determination highlight how our Workforce Development team builds and strengthen partnerships that expand pathways to employment in high-growth industries. Our work at Goodwill is all about partnerships – from the students and graduates who entrust us on their career journey, to partners like you making lasting change through your mission investments.
I am reminded every day of the importance of the work we do together and the urgency of not missing this opportunity to grow deeper in what we can do for our community. As you read how we will do more to serve our neighbors this year, remember you are the bridge that makes this possible and we cannot thank you enough.