Thank you for supporting Goodwill as we continue to serve our community during these difficult times. Your generosity provides no-cost training for people to rejoin the workforce, and offers resources and support for our neighbors to navigate life during the pandemic and beyond.
Your year-end gift could offer an added tax benefit. The CARES Act allows people to deduct up to $300 for cash gifts made in 2020 to registered 501(c)(3) nonprofit organizations. Taxpayers can claim this deduction even if they take the standard deduction on their 2020 income taxes, which can lower both adjusted gross and taxable income. Those itemizing their 2020 taxes can deduct charitable contributions of up to 100% of their adjusted gross income, up from 60% in past years. Please visit the IRS website for more information and consult a tax advisor on how these changes may impact you.
Other Ways To Give
You can also support our mission programs by making a gift through one of the options below. Please note: Our legal name is Davis Memorial Goodwill Industries under our designation as a 501(c)(3) nonprofit organization with the Internal Revenue Service. Our federal tax ID is 53-0196588.
For questions, contact Janece Smoot Kleban, Chief Community Impact Officer, at janece.kleban@dcgoodwill.org or (949) 525-8346.
By Check
Checks made payable to Goodwill of Greater Washington can be sent to:
Goodwill of Greater Washington
ATTN: Development Department
1140 Third Street. NE, Suite 350
Washington, DC 20002
Donor-Advised Fund
Make a grant recommendation to support Goodwill of Greater Washington through your donor-advised fund. Please note our legal name and federal tax ID number above.
Stock or IRA Charitable Distribution
You can also contribute a gift of appreciated stock or make a charitable distribution from your Individual Retirement Account (IRA). For more details, please contact Janece Smoot Kleban, Chief Community Impact Officer, at janece.kleban@dcgoodwill.org or (949) 525-8346
Bequest
You can remember Goodwill of Greater Washington in your estate plans. Learn more through our online guide.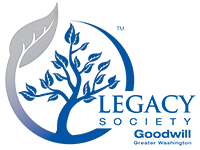 Goodwill of Greater Washington is a nonprofit charitable 501(c)(3) organization. Goodwill does not sell its donors' personal information and all gifts are strictly confidential and tax deductible to the fullest extent allowed by law. The Goodwill Development Team follows the Association of Fundraising Professionals' Donor Bill of Rights.