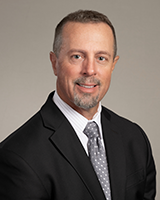 Brendan Hurley is the Chief of Collaboration, Communication & Marketing for Goodwill of Greater Washington where he is responsible for the non-profit agency's internal and external marketing & communications strategies covering its retail & donated goods operations, job training programs and adult public charter school: The Goodwill Excel Center.
Prior to coming to Goodwill Industries, Brendan was the Director of Marketing for Clear Channel Radio (now I Heart Radio) in Washington, D.C., where he managed the regional corporate brand as well as the marketing departments for two of the company's largest radio stations, WBIG FM and WASH FM. In 2002, Brendan was recognized as the Clear Channel – Washington Employee of the Year Award recipient for his successful efforts to integrate and leverage multiple radio station brands and media divisions.
In 2011, the American Marketing Association designated Brendan the National Nonprofit Marketer of the Year for successfully rebuilding the Goodwill brand. In 2010, he was recognized as one of the Top 20 CMOs in the greater Washington/Baltimore region by SmartCEO magazine. And in 2017 Brendan was recognized as one of the Washington region's Top Association and Nonprofit Innovators by Trending40.com. His marketing strategies have been featured in The New York Times, The Washington Post, The Washington Times, The Huffington Post, PR Week Magazine, Chronicle of Philanthropy, and on CNN, FOX News, NPR and MSNBC, among others. His social, digital and mobile strategies have won numerous awards and been presented as case studies on marketing websites and at universities across the country.
Brendan is a founding member of the CMO Leadership Circle, a past president of the Washington, DC chapter of the American Marketing Association, past chair of the Greater Washington Board of Trade's Marketing & Communications Executive Network, and a member of Leadership Greater Washington's class of 2011.
Brendan earned his MS in Marketing from Johns Hopkins University, a BA in Mass Media & Communications from James Madison University and a certification in mobile marketing from the eMarketing Association.