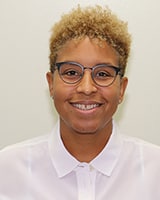 Dawn Holland is the Vice President, Donated Goods & Retail for Goodwill of Greater Washington, where she oversees all day-to-day management, performance, and growth for Goodwill's retail stores, donation centers, e-commerce, transportation, sustainability, and warehouse operations. Prior to being promoted to Vice President, Holland served as the Director of Transportation and Senior Regional Director for Retail Operations. As a proven and trusted leader, Holland takes great pride in achieving mission impact and results through the development of her senior leadership team while ensuring they in turn develop their team members to grow within the Goodwill enterprise.
Joining Goodwill in October 2010 as the Director of Transportation, Holland arrived at Goodwill with nearly twenty years of Retail experience. Prior to Goodwill, Holland excelled in leading stores and multi-site districts at Sports Authority, Target, and Office Depot. A high-performing leader, Holland received the President's Circle Award based on her outstanding performance around profitability, sales, shrinkage, and customer service at Office Depot, earned The Sports Authority's Store Manager of the Year award, and in 2003, achieved the highest KPI ranking of all The Sports Authority districts throughout the country.
When she is not leading the Retail & Donated Goods operations of Goodwill, Dawn enjoys spending time with family and friends, watching sports, exercising, and doing the occasional interior design project.
Holland holds a B.S. degree in Business Administration from the University of Maryland Global Campus.