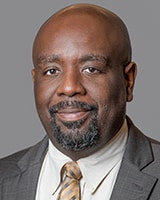 Pat Philippe serves as the Vice President of Community Impact at Goodwill of Greater Washington. Pat leads a team of cross-functional workforce development professionals with the planning and evaluation of existing and new high impact workforce development programs. He also provides leadership and direction for all internal and external training, data management, business & community engagement, development/philanthropy, workforce development program compliance, and performance outcome reporting.
Pat brings years of experience in workforce development and performance management from government, private and non-profit sectors. Prior to joining Goodwill, Pat served as the Director of Workforce Development at Grant Associates where he managed federal and local workforce programs for Montgomery County, MD. Preceding Grant Associates, Pat worked with the District of Columbia's Department of Employment Services as a Program Manager of Performance with a focus on the AJC performance and programmatic compliance. He led a diverse team of supervisory, operational, and front-line staff to provide quality workforce services to district residents. Pat has served on multi-disciplinary teams to strategically integrate workforce programs and services. Pat also worked with the agency's Multiple Information Systems division and was responsible for Performance Management, Data Analysis and Core Systems Training. He contributed to strategic planning and performance management efforts by creating performance management tools to analyze the effectiveness of the District's American Job Centers, Business Services, Rapid Response and Reemployment Services programs.
Pat earned his Bachelor's in Accounting & Finance from Philadelphia University. He and his wife, Renata, currently reside in historic Anacostia with their two girls Cailyn and Ava Marie.