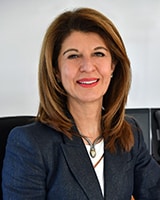 Ghada Ijam is the Federal Reserve System Chief Information Officer (CIO). In this capacity, she oversees the System IT strategy, IT investment and spending, and enterprise information security. She also directs the management of national IT operations, project services, and enterprise architecture and standards.
Prior to her promotion in January 2020, Ghada served as Chief Operating Officer for National IT and had end-to-end responsibility for the Fed's centralized IT infrastructure and end user services, driving excellence in project, program and portfolio practices, and improving the IT partnership with Fed business lines and Reserve Banks.
Before joining National IT in November 2017, Ghada was the Chief Information Officer (CIO) at the National Railroad Passenger Corporation (Amtrak). As Amtrak's executive IT leader, she drove the company's customer experience, digital and data analytics strategies, and IT centralization efforts.
Ghada has more than 20 years of experience delivering results through leading complex initiatives and running IT like a business. She excels in building strategic alliances with customers, focusing on mission goals, aligning people and managing technology portfolios. Prior to Amtrak, Ghada worked for 12 years at Intel, managing and directing global teams. She also previously served in a variety of roles with Fannie Mae, Freddie Mac and U.S. Bancorp.
Ghada serves on the Board of Directors of Goodwill of Greater Washington, D.C., and is a member of Women in Technology. She holds a bachelor's degree in Civil Engineering from Kuwait University, and an MBA in Financial Management from Virginia Tech.