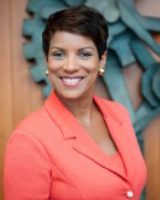 Lisa joined NAHSE in August of 2021 as Executive Director and is focused on expanding the reach of this 50+ year organization, formed for the purpose of promoting the advancement and development of Black health care leaders and elevating the quality of health care services rendered to minority and underserved communities.
Lisa was formerly CEO of the District of Columbia Building Industry Association (DCBIA), where she led the real estate development trade association to reaching its highest membership and engagement levels since its inception.  She also led the DCBIA foundation, providing scholarship opportunities for a Masters in Real Estate Development, supporting restaurants by building streateries and building community in public assets through the annual Community Improvement Day.  Lisa previously had a Mayoral appointment as a member of the Cabinet to lead the DC Department of Employment Services, with responsibility for overhauling one of the most troubled agencies netting millions of dollars in savings; increasing customer service; and dramatically decreasing the unemployment rate in Washington, DC. Lisa was Senior Vice President at ICF International and prior Senior Vice President at the Fannie Mae Foundation. She served the Clinton White House as a member of the Senior Executive Service as Chief of Staff to Vice President Al Gore's National Performance Review, Special Assistant at the US Department of Health and Human Services and Counselor at the Social Security Administration and has worked for the US Senate Foreign Relations Committee and several federal Independent Counsels.
Lisa began her career in the hospitality industry. She obtained a BS in Business and Technology from the University of Maryland University College, MBA in International Business/Marketing from the George Washington University and PhD in Public Administration and Leadership from Walden University. Lisa has completed numerous senior leadership programs at Harvard University's Kennedy School of Government and Kennedy School of Business and was trained by the Coaches Training Institute and is a Linkage Inc. certified Master Coach.
Lisa is a member of Leadership Greater Washington's Class of 2007 and serves on the board of Goodwill of Greater Washington, Goodwill Excel Charter School and the Federal Home Loan Bank of Atlanta's Affordable Housing Council. Lisa is a native Spanish speaker and is conversational in Italian, Portuguese and French.