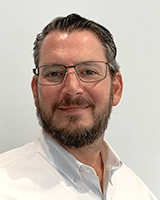 Steven Gelfound joined Goodwill in November of 2021 as the Vice President, Technology and Infrastructure. Prior to joining Goodwill, Steven led technical transformation at two higher educational accreditors building and designing the first of its kind accreditation management system. He also previously served as IT Director for the National Center for Missing and Exploited Children, as well as IT Program Management roles at the Symantec, US Federal Courts and FBI.
Leading IT organizations towards digital transformation, Steven has implemented IT solutions that support business objectives, reduce operating costs, and increase user and membership experiences. In the early stages of his career, he earned his BS in Political Science from the University of Delaware and a BS in IT Management from the University of Phoenix.
In his spare time, Steven enjoys sporting events and volunteering at various charities. Steven currently resides in Northern Virginia with his wife and three daughters.