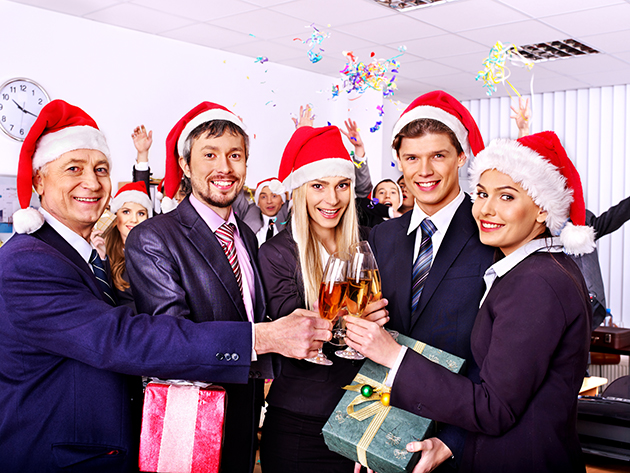 The holidays are the most festive time of the year. Tis' the season when we connect with those who are close to us to celebrate a myriad of traditions and festivals. When you stop to think about it the people who are nearest to us extend beyond our friends and family. We actually tend to spend most of our time with our professional colleagues and co-workers. This fact brings us to one of the hottest topics of the holiday season… the company holiday party.
Parties by their very nature are meant to be fun, entertaining, social, and maybe the opportunity to blow off a little steam. While the company holiday party is no different it is important to remember that this is a professional setting and there is a certain manner in which you are expected to conduct yourself. Keep in mind that it is still a work function and how someone handles themselves could potentially impact their professional future and reputation with their employer.
Every year there are numerous articles and lists that address the proper code of conduct for a company holiday party. Do you ever wonder why? Because it is the perfect occasion for people to make a foolish mistake in front of their colleagues or worse, their boss, and the truth of the matter is that people do just that all the time. After doing some research and finding resources on the subject from outlets like ABC, CBS, The Huffington Post, and others, I was able to compile some good suggestions on common best practices.
"Hey bartender! Let me get another drink and make it a double this time!" – Let's face it, even if you are one of those people who is charming and pleasant when drunk, being noticeably inebriated at the company holiday party will not bode well for you in the long run. Having a drink or two is perfectly acceptable but just make sure to reign it in and maintain a healthy level of sobriety.
"You know, I think by far you're one of the most attractive people in the office…" – So you've had a crush on the girl/guy in the finance department for the past six months and what better time to make a move than at the company holiday party right? WRONG! For a hundred different reasons deciding to hit on a coworker in this situation is about as risky as jumping out of a plane with an umbrella instead of a parachute. You might as well plan ahead and make an appointment with HR in advance.
"I recognize those people from passing them in the hall but have no idea who they are. Oh! There is Bob, Marcia, and Phil. I'll go hang out with them." – While just spending time with the people that are in your department and you know well will be more comfortable you will be passing up a golden opportunity to mix and mingle with other people in the office that you may not be as familiar with. This is the chance to meet new people that you may have seen a thousand times but have never really gotten to know. Not only will this expand your personal reach within your company but it can also lead to connections that can help you in the future. If you are the boss…this is an absolute MUST!
"I've got some really good ideas for the Baxter account that I want to run by you guys…" – It's a party and while you're there with the people that you work with no one wants to actually talk about business. Without getting to personal be prepared to go in there and listen and learn a little more about your colleague's lives outside of work. After all, the better you understand your co-workers lives outside the office, the better you tend to get along with them in the office.
"Here comes the big cheese. I'm going to hit the buffet for seconds." – Not saying hello to your boss or boss's boss is ill advised, even if they may not know exactly who you are. The company holiday party is a gift in a way to the employees and usually takes at least some level of investment that is approved by the head honcho. They deserve at least a "thank you" and that expression of gratitude may actually be beneficial to you in the long run. (On the other end of that, it is poor form to try and take up too much of their time or be a brown noser.)
"My goodness! Margret has the worst B.O. I've ever encountered! I hope someone got her a stick of deodorant as her Secret Santa gift." – This is not the time to gossip and bad mouth the people that you work with. It is rude, inconsiderate, and it will make you look bad. Don't be that person. Period!
"The company party? Heck no I'm not going! Who wants to hang out with their coworkers outside of work?" – Especially if you work at a small company someone is bound to notice if you decide to not attend. Even if it is just to have a quick drink and a "hello" to a couple of people it is important to at least make a cameo appearance. People may get the wrong impression if you decide to skip it all together, or they may get the right impression, which is even worse.
"Ugh… this is so boring. I can't wait to leave." – While you are not supposed to fly off the handle and go hog wild at the company holiday party you should at least try, or pretend, to have fun. Remember, it is a party and people have come to enjoy themselves. Nobody likes a buzz kill.
At Goodwill we teach our students the importance of accountability and the value of building a personal brand. We also try to emphasize that individual responsibility extends beyond the 9-5 workday, which includes the company holiday party.
From all of us here at Goodwill of Greater Washington we would like to wish you a happy and healthy holiday season filled with plenty of fun and great memories.
Just make sure that fun is not at the expense of your co-workers or your reputation.
---