A Manager's Perspective: Opening the New Hayfield Goodwill Location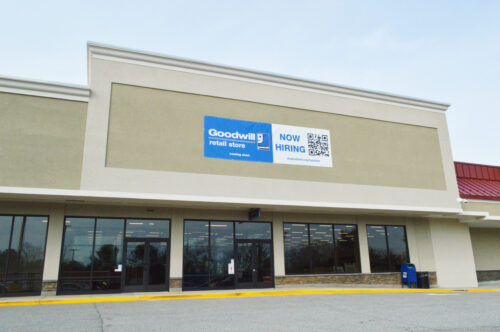 On April 23rd, Goodwill of Greater Washington will be opening its 22nd retail store and donation center at 7558-B Telegraph Road, Alexandria, VA, across the street from Hayfield High School. As the days quickly lead up to the grand opening, the new location is bustling. New Team Members are training, hundreds of pieces of inventory roll out by the hour, and signage installation is quickly finishing up.
It takes a lot of team effort and planning to open a new Goodwill location, more than we ourselves sometimes can comprehend. However, we always remember that it truly does take a village to bring it all to life for our community.
The location's General Manager is a crucial team member who helps pull all of the pieces together to open a new Goodwill. Under their daily guidance and leadership, the retail store and donation center can thrive.
We spoke with Dwayne Pierce, Hayfield's incoming General Manager, to provide you an inside look at the effort involved in opening a new Goodwill and expert tips for navigating opening day. You've met Dwayne on our blog before, and we're excited to share his perspective within his new role.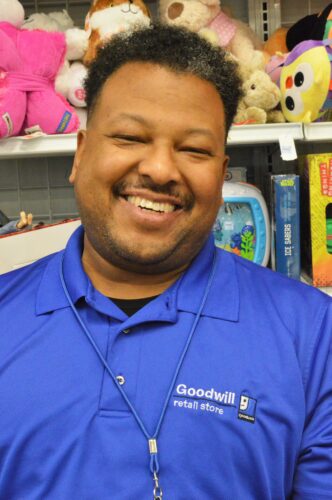 At a high level, what does it take to open a new Goodwill?
It takes a good support system. Not just in the stores, but the administrative team's help. From Finance to IT to Marketing, all of these entities play a role in how well the location will perform. It's about teamwork across the organization. It's like that with coaching football [Dwayne used to be a Football Coach]; you have to have the support system. The Coach and the players buy into the vision. My focus has been on motivating the team and sharing my vision for Hayfield—hiring people who want to be a part of the team. Those who are here as excited as I am will make the store opening a huge one. Nobody works for me. Everyone who I hire works WITH me, not necessarily for me. We all work for Goodwill. We are a team.
What are some unexpected challenges that you've faced with this new experience?
Some of the day-of logistics can be challenging. For example, there was a long line at our North Rockville opening – like you would have at any store's Grand Opening. Those are the types of things that we have to find solutions for; that's where the importance of customer service comes in. We want our Team Members to converse with shoppers to make them feel welcome and appreciated.
As a leader, a challenge I've faced is telling the community that we're not open yet. There's a lot of excitement, and I want to welcome everyone into the store as soon as possible. We have to tell customers that our store is not open yet, but our donation center is. This has been something to navigate and explain.
Generally, what are the steps that it takes to open a Goodwill?
First, you need to find the best location to serve the community. That's paramount. Then, you need to choose who will open the store – the staff, the General Manger…everyone. I feel truly honored to open Hayfield.
Next, you have to collect donations. You never know how much you'll get but right now we're seeing more and more donations each week. We are truly grateful. One might not realize that a Goodwill is as strong as its team and the donations that it receives. We have so much gratitude for our donors. We treat all donations with so much respect and care.
I want to thank Stephen Jackson and Jose Padro for their insight and wisdom throughout this whole process. The entire staff at the administrative office – everybody. Everyone has been incredibly supportive of this opening. You can't do this without a strong team.
What are some things that you LOVE about opening a new store?
I love when customers come to the door, even though we're not open. They're pulling on the door. You see them coming through the parking lot. It shows how much people love Goodwill. Goodwill is like a magnet – people are drawn to it.
I also love that people come to Goodwill to work for us even though they might not have been in this environment. Some individuals have come from other industries and even countries – and they came to Goodwill because they saw the vision. It's also exciting to teach our Team Members about the process and how everything works. It can be surprising – new team members came in who were extremely shy, and after training and getting to know them, they've opened up. They share their ideas now – they aren't afraid to speak up. It's exciting to be here.
What are some of the coolest donations you've seen?
A vintage camera from the 1940s. We had a metal guitar – that was super cool. I am amazed at some of the things that people donate here. I've seen Prada bags…shoes. Gucci.
Do you have any tips for customers at the Grand Opening for this new location? Where should people look?
Come early! There will be a line to get into the store. There's a lot of buzz. Get here by 7:30-8 AM. Come with a friend and have them stand in line for you. That way, you can shop while they wait in the checkout line.
I would first go to the electronics section. There's nice stuff there. Then, the showcase of items. We have quality items there at great prices.
We test electronics, but please note that some items might not come with power cords (because it wasn't donated with one). We price accordingly if it doesn't come with one. We do test all items, though, even when they don't come with cords.
How are items merchandised around the store?
After we gleefully accept donations, we hand sort everything out and inspect donations for quality. Items that we can sell at the store are priced and then are put onto the sales floor.
Women's clothing is a huge seller – that's why it's the largest section of the store. We then colorize everything so it's easy to shop. Bright spring items are at the front of the store. Darker colors are at the back.
When I merchandise and organize a store, I go by something I call the, "Disney Principle." At Disney, every night, hundreds of people reset the park. The goal of Disney is that they want the first person to walk through the gate when the park opens in the morning to feel as if they are the first person that has ever been in the park. It's made and clean just for them. They want you to get the feeling of newness and freshness – just for you. I preach this to our team. Every day, we have to look like opening day, every time we reset the store. There are customers who have never been in Goodwill before. We have to set the impression that the store is just for them. Everyone deserves a high standard, every single day.
After the store opens, what would you like to see happen at Hayfield?
In the future, I would like to establish a connection with the students of Hayfield High School. We welcome all students and members of their community to shop with us and seek employment at Goodwill. We want to help high school students grow and develop their career goals. We are here to help and support – it's what we do as an organization.
Thank you, Dwayne, for giving us the inside scoop on the Hayfield location! We are grateful for your leadership at this new location and look forward to the Grand Opening festivities. 
—
At this new site, Goodwill hopes to offer the residents of the Hayfield community in Alexandria not only another place to find quality donated goods at great prices but also an additional destination to donate apparel and household goods that have outgrown their homes. 
And remember this – every investment in Goodwill helps fund free job training, education, and placement services for people facing barriers to employment – a critical need due to the pandemic.
Goodwill presently offers free training in hospitality services, and energy & construction. The agency also operates an adult charter high school: The Goodwill Excel Center. Donor support for Goodwill creates a more sustainable community by further reducing the amount of material sent to our local landfills. In 2020, Goodwill of Greater Washington resold, repurposed, or recycled almost 26 million pounds of material goods.
We look forward to celebrating our Grand Opening with our community on April 23rd!