Veteran Spotlight: John Fullard
Veterans Day is an important opportunity to spotlight our country's service members and the invaluable work they perform each and every day.
As part of our Veterans Day celebrations, we'd like to take a moment to recognize the individuals within our Goodwill family who have demonstrated selflessness, courage, and sacrifice, by serving our country.
John Fullard
U.S. Army // Driver, Goodwill of Greater Washington Transportation Team
John Fullard proudly served in the U.S. Army from 1961 to 1964. After being drafted, he was originally stationed in Aberdeen, MD. However, John completed his basic training in Fort Jackson, South Carolina. He then completed his tour in Mannheim, Germany where he saw the Berlin Wall firsthand.
During his service, John was in the Ordnance Branch, where he managed supplies for the troops and held a variety of warehouse-type responsibilities. He also held a role on a three-person Blue Team that handled the dispersal of Army necessities. It was in that role when he began his career as a Driver.
When John's Army service concluded, he pursued a career in transportation throughout the DC area. Fast forward to around March of 2016 – 15 years ago – John joined our Goodwill family as a Driver. He is responsible for safely and effectively driving and operating company trucks, transporting Goodwill inventory to various locations. John also handles, loads, and unloads materials by hand or through the use of a hand truck.
Goodwill has grown rapidly during John's time at Goodwill. When he started with us, John recalled our organization only having one store in DC, two stores in MD (Rockville, Gaithersburg, about 5 in Virginia (Glebe, Falls Church, Arlington, Sterling, Manassas). We now have 21 locations.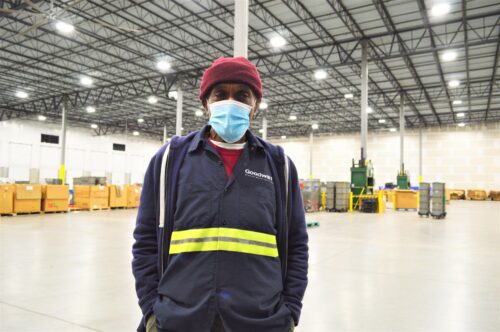 When we asked John about his favorite memories at Goodwill, he told us that overall, he loves engaging with his fellow team members (many of which are still here from when he came to Goodwill!), store teams, and the overall community. Our organization used to perform home pickups nearly a decade ago and John was a part of the small team that completed these in Maryland and Virginia. He enjoyed meeting different members of the community when making these trips to pick up large pieces of furniture. Due to the current economic, environmental, and safety landscape, Goodwill no longer performs this service.
John spoke very highly of his role at Goodwill. He enjoys his routine so much, that he can't recall ever taking a sick day. He avoids missing work because the nature of his job at Goodwill is energizing and allows him to enjoy his favorite pastimes – watching football and playing pool. In fact, John attributes his great health to the active and on-the-go nature of being a Driver at Goodwill. Fun Fact and we would have never guessed this – John is 84 years old!
Please take a moment this Veterans Day to join us in recognizing incredible individuals like John, and countless others, and what they have freely given to our country and us as a people.