Excel in Learning. Excel in Life.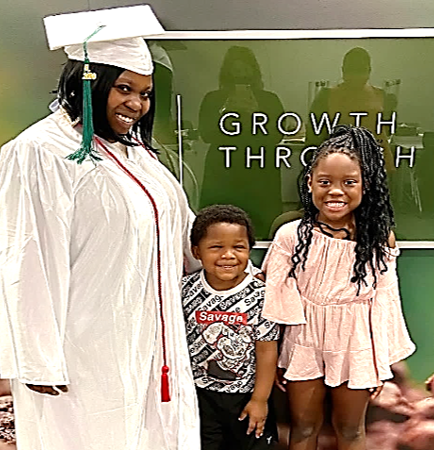 Since August 2016, the Goodwill Excel Center has lived that mission providing a path for adults in the District to earn their high school diplomas and build a brighter future.
Now the tuition-free school can reach more of the 60,000 District residents who do not have a high school diploma. On February 22, the DC Public Charter School Board gave approval for the Excel Center to expand through an enrollment ceiling increase.
The school has met or exceeded its audited enrollment goal of 360 students each year. Demand for enrollment grew last year and remains strong, despite the shift to virtual learning in the pandemic as more people invest in their education to improve employment options.
Adding a second campus will allow the school to split students between two locations and increase maximum enrollment to 550 students by 2024. The focus will remain on supporting the whole student – the hallmark of the Excel Center.
The school takes an individualized approach that supports students in creating their own path to success. It is a unique model, says Dr. Chelsea Kirk, Director of the Goodwill Excel Center, who added that serving adult learners means understanding life circumstances can often stop people from continuing their education.
Identifying the key supports needed for each student paired with a positive and engaging learning environment and community is what continues to guide students on their journey. That is why the Excel Center:
Has five eight-week terms that give flexibility to enroll throughout the year.
Offers free on-site childcare.
Provides transportation assistance to ease barriers getting to school.
Pairs each student with an academic success coach to identify and overcome obstacles to success in or outside of school.
Allows graduates to earn industry-recognized credentials with their high-school diploma, and;
Has a Career and College Readiness team to prepare students for life after graduation.
There are 319 Excel Center graduates, including the January Class of 2021 that will walk in their ceremony on April 9. The Excel Center continues to stay in touch and support their alumni, including working closely with each alumni six months after graduation. To date, 66% of all graduates have found employment or enrolled in post-secondary education.
Visit goodwillexcelcenter.org to learn more.