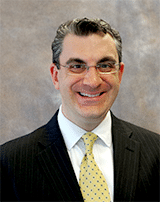 Jeffrey Rostand, is the Chief Financial Officer for Goodwill of Greater Washington. He is originally from Pittsburgh Pennsylvania, and graduated from St. Vincent College (Latrobe, PA) with a BS in Accounting. Jeffrey is a Certified Public Accountant with over 25 years of diverse and progressive accounting, auditing and tax experience in both for-profit and non-profit organizations. His experiences have relied on the ability to learn new positions and produce results quickly; to develop, coordinate and implement strategy as well as demonstrating the skill to facilitate and communicate with all levels of staff and management.
A KPMG alumni, Jeffrey most recently served as the VP and CFO of Catholic Charities of the Diocese of Arlington where he lead and oversaw growth in budget that nearly tripled from $8 million to over $20 million, and achieved 9 consecutive clean audits (including federal single audit). Prior to Catholic Charities Jeffrey served as Controller for Volunteers of America (National Office), Director of Accounting for National Association of Broadcasters, and various accounting positions with Hecht's Department Stores.
Jeffrey is a member of Leadership Greater Washington, Class of 2017, and has served on several boards, most recently the board of directors of Commissioned by Christ as Treasurer. Jeffrey and his wife of 20 years Tina live in Alexandria, Virginia, are blessed with one daughter (Lauren) and have rescued a lab-mix dog through Humane Rescue Alliance. Jeffrey is active in several volunteer activities with his church, Blessed Sacrament (Alexandria), including leading the church's men's group.