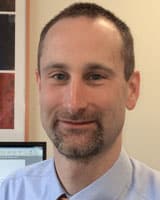 Josh Wallish is Goodwill of Greater Washington's General Counsel and Corporate Compliance Officer. In that role, his primary responsibilities include negotiating and managing contracts, providing employment and other legal advice to the management team, and overseeing and implementing Goodwill of Greater Washington's corporate compliance program.
Before joining Goodwill of Greater Washington, he worked as a litigation associate and then partner at Varnum, LLP, where he focused on contract disputes, commercial collections and real estate disputes.
In 2010 Josh made a move to the Washington D.C. area and to the non-profit world, working as Grants Manager for Goodwill of Greater Washington. Since 2013, Josh has returned to the practice of law in his current role with Goodwill of Greater Washington.
A native of West Michigan, Josh earned his B.A. in Philosophy from Calvin College in Grand Rapids, Michigan and his law degree from the University of Michigan School of Law.
Josh is admitted to practice law in Washington D.C., Maryland, Virginia and Michigan.
Josh and his wife Amy live in Silver Spring, Maryland, and have four sons.