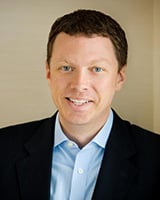 Kevin Jacobs is Chief Financial Officer of Hilton.
He oversees all of the company's finance and real estate functions globally. He joined the company in 2008 as Senior Vice President, Corporate Strategy; was elected Treasurer in 2009; was appointed Executive Vice President & Chief of Staff in 2012; and assumed his current role in 2013.
Prior to Hilton, Mr. Jacobs was Senior Vice President, Mergers & Acquisitions and Treasurer of Fairmont Raffles Hotels International. While in this role, Mr. Jacobs was responsible for sourcing, evaluating and executing on potential mergers, acquisitions or other strategic corporate transactions and leading the company's corporate strategic and business planning efforts. As Treasurer, he oversaw the company's corporate finance and treasury activities globally.
Prior to Fairmont Raffles, Mr. Jacobs spent seven years with Host Hotels & Resorts, Inc., most recently as Vice President, Corporate Finance & Investor Relations, in which capacity he led the company's strategic planning and investor relations functions. Mr. Jacobs has also held various roles in the Hospitality Consulting practice of PricewaterhouseCoopers LLP and the Hospitality Valuation Group at Cushman & Wakefield, Inc.
Mr. Jacobs is a member of the Dean's Advisory Board of the Cornell University School of Hotel Administration and a member of the Hotel Development Council of the Urban Land Institute.
Mr. Jacobs is a graduate of the Cornell University School of Hotel Administration.