My First Job: Where You Started Isn't Where You'll Always Wind Up Going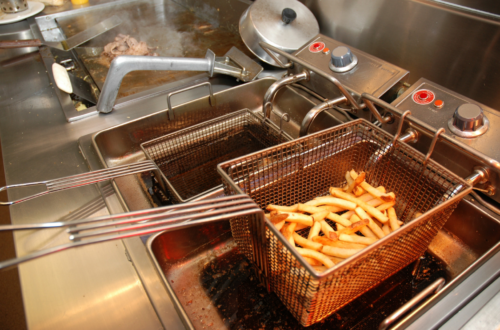 When I think about my first jobs as a teenager and young adult – I both cringe and look back with nostalgia. I secretly think it's embarrassing AND cool that I worked as a Sales Associate at the mainstream emo/punk/goth retail business, Hot Topic. Although I sometimes reminisce about those rambunctious days of my early twenties, I will never forget the life lessons I learned at Hot Topic and the other positions I held that kickstarted my career. The importance of customer service, making others feel heard and understood, and what it means to get along with different personalities in the workplace — I've taken these learnings into every role I've held throughout my career journey. And I still employ these lessons today in my Marketing & Communications role at Goodwill.
My first jobs were very different from where my career path took me – from Retail to Art to Marketing. I wondered if this unexpected trajectory might be the same as my colleagues at Goodwill. So, I asked them! Here's what they said.
Dr. Chelsea Kirk
Executive Director, The Goodwill Excel Center
First Job: Working at a female sporting goods store in Baltimore during high school
What I Learned: My position at the store was a team member, where I helped young girls purchase some of their first sporting equipment. The store specialized in lacrosse equipment, the sport I played throughout my life and in college. I loved seeing the big ideas and wide eyes of young athletes come into the store, get so excited about their first stick, and see the parents find joy in this moment with their child. The store had a space where you could throw a lacrosse ball to test a stick out or hit a field hockey ball around to test a stick out, and it was pure magic seeing young female athletes feel so empowered by their choice of new gear and seeing a journey ahead of them. I just loved it!
Sheila Silva
Retail Assistant Manager, Manassas, VA Goodwill
First Job: Phone Center at Home Depot
What I Learned: My first job was at the phone center at Home Depot. I answered all inquiries and did overhead announcements every 30 mins. I worked inside a room that was plexiglass all around so that I could still see the sales floor around me. I had a headset and couldn't leave the room because it was hooked to the phone system. It was the old school. Anyways, I talked to different individuals, and a lot of them were really appreciative and would always tell managers or my co-workers that they felt comfortable speaking with me. Sometimes when they came to the store, they would look for me to meet me in person. The feeling is priceless for me. On my part, I really didn't feel I did something special, and I was just being myself. That's when I realized I loved my job and wanted to work in customer service, mostly in retail.
Bill McDanal
General Manager, Liberia Avenue Goodwill
First Job: Joining the U.S. Navy, attending Boot Camp, taking advanced electronics training, and entering the USN Submarine service.
What I Learned: My first "job" was joining the U.S. Navy, attending Boot Camp and advanced electronics training, and entering the USN Submarine service.
The training instilled a desire to strive for excellence and be part of a Team, always looking for increased responsibility and being accountable – this set the tone for the rest of my life. Adopting these values led to ever-increasing opportunities to expand, grow, and learn new skill sets and the opportunity to grow into ever-increasing roles of responsibilities.
After retiring from the Navy and with the opening of the Sully Station Goodwill store, I took the opportunity to learn even further, especially with absolutely no Retail experience – a challenge that I looked forward to! GGW allowed me the opportunity to grow within the organization, and experience and learn new skills, something that I strived for from the very beginning of my career.
It has been a pleasure and an honor to work and grow with the GGW Team.
Janet Hughes
Manager, Employability Skills
First Job: Cashier at Nathan's Hot Dogs
Jeff Cole
Chief of Expansion
First Job: "Courtesy Clerk" (AKA "bag boy") at a local supermarket chain in Richmond, VA.
What I Learned: I spent most of my time bagging groceries and taking them out to our customers' cars, but there were also many times when I was tasked with cleaning the store bathrooms and the employee breakroom. During the summer months, I also often came in at 2:00 am and spent several hours mopping and waxing the floors while the store was closed. I learned the value of great customer service. For example, we were instructed to never "tell" a customer where to find an item, but to stop what we were doing and "show" them where it was by walking them to it. I also learned that no job is beneath anyone and that every job is important to the overall operation. I eventually left for a job in a computer room which offered more hours per week and a slightly higher hourly rate, but I continue to value what I learned on that first job.
Cheryl Harrison, CPP
Payroll Director
First Job: Crew Member at Wendy's in West Hills, CA
What I Learned: The role was important in my career because it was where I first learned the importance of customer service. At the time, my manager was quite stern, but fair. He instilled in us the importance of customer appreciation, respect, and integrity of your own work, regardless of the position or place of work. But most importantly, the customer was why we had a job in the first place. He closed our training with the following statement,
"For the years that I have managed this location, I have come to know my customers, and they have come to know me. They look forward to smiles and good service with every visit and have received such. If you are unable to provide this level of service and our customers do not leave with the smiles that they came in with, this is not the job for you."
To my 16-year-old self, this translated to, "If the customer does not leave pleased, you will be fired."
While I have come a long way from that position, the values of customer service, appreciation, respect, and integrity have followed me throughout the years and have benefited each organization I have had the privilege to work for.
Yancy Rivas
Marketing Assistant & Receptionist
First Job: Housekeeping (First job in the US)
What I Learned: Working as a Housekeeper changed my life completely. Seven years ago, I arrived in the USA with a suitcase full of dreams, hopes, strength, and desires, but I never imagined that working as a Housekeeper could be one of the best experiences of my life. When I mention this, people look at me and say are you crazy? That job is very heavy, and it has been one of the best experiences of your life?! Yes, I perceive it that way because I learned the value of effort from my parents. They always worried that my siblings and I would take advantage of going to the university without having to work because they knew the difficulties of working and studying simultaneously. About four years ago, I worked in housekeeping at a hotel in downtown Washington DC where I had the opportunity to have the first job of my life cleaning rooms in a hotel. Being there, I understood the value of" little things." I learned the true value of family, and I met wonderful stories and people that I still have in my life. The most important thing of all this is that I learned my true values as a woman and integral human. I learned to love, value, and respect all people without distinction because we are all fighting to be better every day. I understood that in life, we go through different paths, and the goal is to find happiness, no matter how much life runs out. We remember that it is a gift that we must accept with love, positivism, and courage to adjacent towards happiness.
Did any of these stories inspire you to look back at your career path and find gratitude in each position? Are you just starting your career and have questions about your "why" and where you'll go?
Life will take you to unexpected places, so trust the journey with passion, an open mind, and drive. You'll eventually get where you need and want to be.