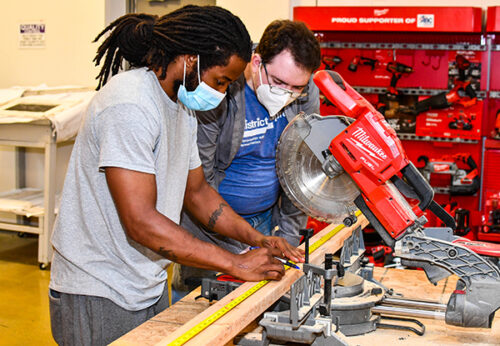 One of the many things that gets the team at Goodwill of Greater Washington psyched is when we develop new or refresh our job training programs. Remember, this is the core of our mission. This is why we operate retail stores. This is also why we encourage you to donate your clothes, furniture, and other items.
It all comes down to helping people to fulfill their dreams.
We are offering at least two refreshed job training programs in 2022. And as always, at no cost to members in need in our greater Washington community.
Beginning on January 26th we will begin classes in our Energy and Construction Career Training Program. This is a great opportunity to begin a career in one of the fastest-growing industries in the country. It is also an industry that provides limitless growth possibilities. A construction laborer can begin at an entry-level income of up to $17-$20 an hour.
Besides an excellent starting wage, this field ranks very high in worker satisfaction. Entrepreneur, Huffington Post, and Fast company have all cited a survey ranking the construction industry as having the happiest employees. Plus, by taking advantage of this program, you can jump-start your career free from the burden of student loans.
If this sounds like a great plan for your life, you can register here: https://dcgoodwill.org/education/training-programs/energy-construction/
Just enroll in one of our mandatory Information Sessions by December 27th. We would like to thank Washington Gas for sponsoring this new program.
We are also launching a five-week Hospitality Job Training Program. It will be conducted by industry professionals and feature a wide range of opportunities. This includes Concierge, Valet, Banquet Server, Food Prep/Cook, Bartender/Server, Front Office Receptionist, and Hostess.
In a relatively short period of time, you can be on your way to a successful career in the ever-expanding hospitality industry. A sector that can take you down the street or around the world.
This program will host multiple classes throughout 2022. You can find out more here: Hospitality Job Training Program – Goodwill of Greater Washington (dcgoodwill.org)
We'd like to thank our program sponsors, including DMPED and The Wharf, for helping us to provide this needed program for the community.
We are proud of the many job training programs offered at Goodwill of Greater Washington. We are even prouder of our students. Because of their dedication and focus, three out of four of our job training programs are successfully hired! The next one could be you.
If you know of someone who would benefit from either of these programs, please forward this information to them today. You could be the reason their lives are forever changed for the better.
---